Spain seventh in elite relay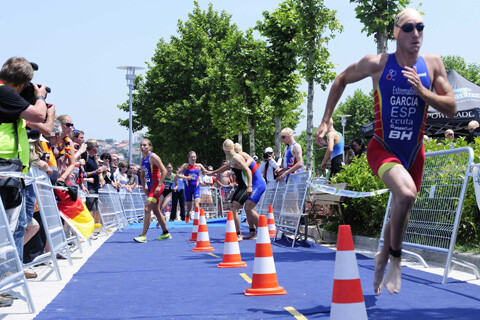 The medal positions were decided on the last lap, with Spain being seventh. Ukraine and Germany fought until the last moment and it was in the final sprint that the name of the winning country, Germany, was decided. Ukraine reached only one second from first place. The Italians completed the podium of this test.
In this way, they completed the 300 meters of swimming, 8 kilometers of cycling and 2 kilometers of running that each of the team's four triathletes had to perform.
During the first supersprint, performed by a woman, the group of triathletes did not begin to divide until the foot race. The Spanish Marina Damlaimcourt handed over to Ramón Ejeda in fifth position. Hungary, Germany, Ukraine and Italy were leading the race.
As Josemi Pérez said at the end, "we lacked strength running and that is where the medal positions were decided." That is why María Pujol took the witness for Ejeda seventh.
The fight began to define itself and, for the Spanish team, Poland became its rival. Josemi Pérez managed to cross the finish line by giving the Spanish team seventh place in the Mixed Relay European Triathlon Championship, "the team was touched from yesterday's individual race but, when you give it your all, you are satisfied". Josemi also wanted to thank the work of the 600 volunteers from the European in Pontevedra "I thanked those I saw at the end of the race. With everyone's work it was possible to make the best European we were in ".
For their part, the winners highlighted the work of the entire team. "We have good coaches, a good group and very good sprint triathletes," said Bucholz, also referring to the Olympic gold of the German Frodeno.
1 GERMANY
2 UKRAINE
3 ITALY
4 RUSSIA
5 HUNGARY
6 POLAND
7. SPAIN
8 PORTUGAL
9 RUSSIA
10. CZECH REPUBLIC
Source: FETRI