Spain third in the European Sub 23 Mixed Relay Championship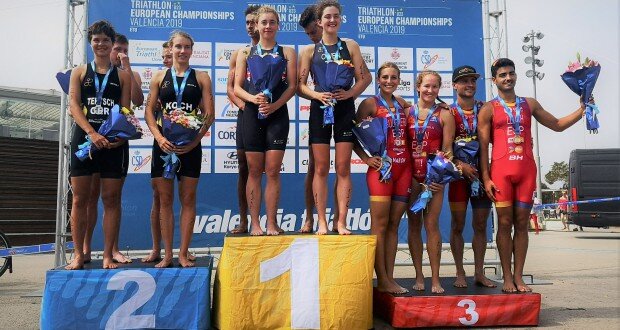 El European Mixed Relay Championship He has closed the international tests that have been held during this weekend in Valencia, and with the athletes of the Spanish Triathlon Federation achieving the bronze medal after a spectacular comeback.
Noelia Juan, Javier Lluch, Sara Guerrero y Roberto Sánchez Mantecón they were the ones chosen by the technical director of the FETRI, Iñaki Arenal, to compete in the European Championship of Mixed Relay, and the four were the ones that got the best results of ours in the individual tests yesterday.
Three Valencians and a Galician, Sara Guerrero, came out with number five eagerly and with the support of the local public.
The first reliever was Noelia Juan, who in the first post was cut by swimming in the most delayed positions and managed to recover time in cycling and running on foot by giving relief to Javier Lluch in tenth place.
Javi, runner-up of Europe the previous day, began to recover positions from swimming, and after a cycling segment that placed him in the top eight he managed to hurry up to fifth place in which Sara Guerrero took over. For this he achieved the second best partial of his series.
The third post was going to be the one that elucidates who was going to fight for the podium, with two outstanding selections from the others, Great Britain and Germany, and followed by Belgium and Poland, with Switzerland, Hungary, Norway and Spain on their heels.
Finally Sara managed to save the fifth position and shook hands with the World Champion of the category, Roberto Sanchez Mantecón, our last reliever.
Roberto signed a comeback of those that are already classic in him, getting thanks to teamwork in cycling along with the Norwegian and the Swiss and a partial stratospheric walk a bronze medal deserved for the national team.
A result that corroborates the great moment of form of our triathletes facing the Spanish Championship that will be held within 15 days in A Coruña. And that served Roberto to celebrate with his family and friends a new international medal
Classifications
| | | | | | |
| --- | --- | --- | --- | --- | --- |
| TEAM LAST | LEG 1 | LEG 2 | LEG 3 | LEG 4 | TOTAL TIME |
| Great Britain | 00:20:43 | 00:17:57 | 00:20:40 | 00:18:42 | 01:18:02 |
| Germany | 00:20:30 | 00:18:47 | 00:20:08 | 00:18:42 | 01:18:07 |
| Spain | 00:21:21 | 00:18:07 | 00:21:05 | 00:18:15 | 01:18:48 |
| Switzerland | 00:20:38 | 00:18:35 | 00:21:03 | 00:18:34 | 01:18:50 |
| Belgium | 00:20:40 | 00:18:36 | 00:20:49 | 00:18:53 | 01:18:58 |
| Hungary | 00:21:06 | 00:18:36 | 00:20:51 | 00:18:30 | 01:19:03 |
| norway | 00:21:19 | 00:18:11 | 00:21:40 | 00:18:24 | 01:19:34 |
| poland | 00:20:44 | 00:19:07 | 00:21:01 | 00:18:49 | 01:19:41 |
| Russia | 00:22:02 | 00:18:40 | 00:21:12 | 00:18:58 | 01:20:52 |
| Portugal | 00:21:02 | 00:18:26 | 00:22:50 | 00:19:19 | 01:21:37 |
| Ukraine | 00:21:13 | 00:19:01 | 00:22:58 | 00:19:57 | 01:23:09 |
| Netherlands | 00:21:53 | 00:19:12 | 00:22:29 | 00:19:38 | 01:23:12 |