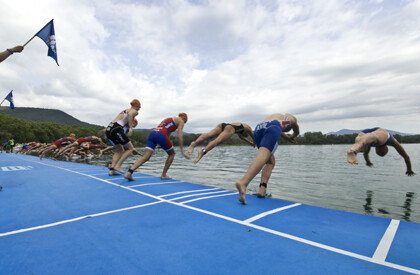 Yesterday, the official ETU Triathlon European Cup and the first circuit test World Triathlon Promaster in the vicinity of the lake of Banyoles.
Saturday 4 of May will be the premiere of the first competition of the World Triathlon Promaster circuit, with competitions Agemaster, Start y promaster
With a total of 49 athletes in the Promaster category, the presence of Ramón Ejeda, Jesús Gomar, Anton Ruanova while in the female category they will compete Marina Damlaimcourt, Saleta Castro y Eva Ledesma as top triathletes.
The following day, the 5 Sunday in May will be the dispute of the European Cup where in the male category the presence of Fernando Alarza, Vicente Hernandez, Francesc Godoy y Uxio Abuin , whereas in females they will compete Ainhoa ​​Murua, Carolina Routier, Zuriñe Rodriguez, Marta Jimenez y Anna Godoy among others.
The women's race will be released at the 9: 00 in the morning and the men at the 12: 00
More information European Cup:
http://www.triathlon.org/events/event/2013_banyoles_itu_triathlon_premium_european_cup_
More Information WTP: http://www.triatlon.org/competiciones_13/sites/banyoles/banyoles.asp