Vicente Hernández second on Etu Point List 2013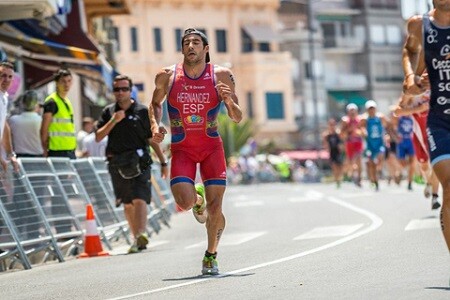 Four Spaniards have entered the Top-10.
Vicente Hernández has finished the season in a splendid second position in the Point List of the European Triathlon Federation (ETU). Together with him Uxio Abuín has followed him in an outstanding fourth place, in a classification in which four Spaniards have entered the Top-10.
The triathlete santacrucero has starred in remarkable performances throughout the 2013 season (at European level, among other results achieved the bronze medal in the Premium European Cup of Banyoles, Quarteira European Cup, or the European Championship Sub23 held in Holten), as well as Abuín, which has also garnered meritorious performances, including a fourth place in the European Sub23 of Holten last June. They join the Top-10 Fernando Alarza, ninth and Ricardo Hernándeztenth
The first position has been for the Ukrainian Danylo Sapunov and the third place in the ranking has fallen to the Russian Vladimir Turbaevskiy.
Other Spaniards also appear on the list: Mario Mola, 15th; Cesc Godoy, 51st; Jesús Gomar, 61st; Óscar Vicente, 74th; Javier Gómez Noya, 92nd; Iñaki Baldellou, 138º; Antón Ruanova, 146º; Iván Raña, 159th; David Castro, 192º; Luís Miguel Sánchez, 202º; Isaac López, 210º; José Miguel Pérez, 256º and Ramón Ejeda, 262º.
On the other hand, after a brilliant end of season, Ainhoa ​​Murua (second in Banyoles) has reached the tenth place in the female classification. Furthermore, the other Spanish women in the ranking finished the season in the following positions: 23rd Tamara Gómez, 34th Carolina Routier, 48th Anna Godoy, 64th Melina Alonso, 65th María Ortega, 69th Miriam Casillas, 82nd Aida Valiño, 98th Marina Damlaimcourt, 124th María Jiménez, 156th Sara Bonilla, 175th Judit Saizar, 184th Xisca Tous and 205th María Pujol.
The Polish Agnieszka Jerzyk has been the first classified, followed by the Russian Irina Abyssova and the German Rebecca Robisch; second and third respectively.
Looking ahead to the next season, the ETU has announced a new ranking, which will award the triathletes for the results obtained during each season, instead of the current Point List system made based on the results obtained over several seasons.
These results show the high level of our triathletes, who have starred in a dream season.
FETRI