Eva Ledesma operated on the clavicle after the fall in Triathlon Zarautz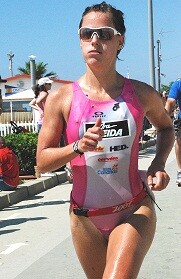 A fall in the last kilometers of the cycling phase of the Zarautz Triathlon -Saturday June 13- has cut the hitherto successful season of Eva Ledesma.
At that time he was 3rd and with a 20km walk ahead he had clear options to reach at least the 2nd place in an internationally prestigious competition that reached its 25th edition. It was in a downward curve, giving the typical somersault that causes a clavicle fracture - the left one if applicable - and erosions. She was first transferred to a hospital in Donostia, to travel to Lleida the next day after undergoing the most urgent cures.
At home she made the decision to put herself in the hands of the prestigious sports surgeon (in addition to an ex-athlete) David López Capapé, who intervened in Madrid on Thursday, June 16.
Eva has returned to Lleida this week and from there she is optimistic: "I have gone through moral ups and downs, because I was in top shape and very excited after the various victories in 2011. But we must stop lamenting, look ahead and think about the best recovery. The operation is the best solution so that the shoulder, the fundamental joint in a triathlete for swimming, remains 100%.
To this day I already have my arm free, without making sudden movements or carrying weight. Capapé will see me again next week and after them I hope to start with specific exercises and gentle workouts on an exercise bike to regain muscle tone. If all goes well I do not rule out participating in the Spain Media Distance Championship, Vitoria July 24; and of course I hope to be at the top again for the Long Distance European Championship in Finland on August 21 ".
Source: Press Eva Ledesma