Eva Ledesma fifth in the European Long Distance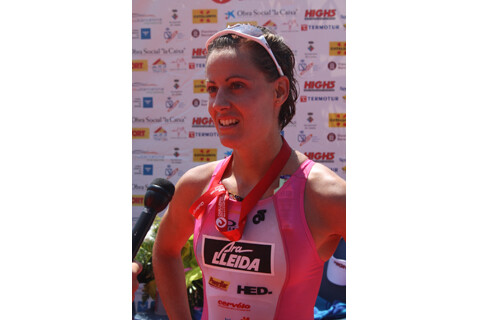 The Spanish Eva Ledesma achieved fifth place in the Long Distance European Championship held today in the Finnish town of Tampere.
After a few weeks of rest that has kept her stopped due to a fall in the mythical Zarauz triathlon held last June and that caused a broken clavicle, Eva Ledesma has been recovered today from body and mind and has known Show your strength by fighting until the last moment to stay in the Top 10 of the best European long distance triathletes.
In a circuit that had 4000 meters swimming, 120 kilometers by bike to finish with 30 kilometers of running, it was the Danish Camila Pedersen who took the first position on the podium with a total time of 6:10:25 Second place also for Denmark, Michelle Vesterby completed the circuit at 6:15:32 and it was the Polish Ewa Bugdol who closed the last place on the podium 6:27:37.
Eva Ledesma managed to finish the circuit at 6:33:00 "It was a doubtful race, I have to confess that I did not have a good feeling. In some moments I have felt hung up, without references, but I have known how to continue. From the beginning the Danish were at the head of the race, they have been strong and at no time have I thought that I could get to catch them. Alone in practically the entire circuit, there have been hard moments where a thousand things have crossed my mind, despite this I have known that I had to be strong and that it was really worth fighting to reach the finish line and be in the Top 10 of the European Championship . I am happy with this result, now it's time to rest for a few days "

TOP 10 OF THE TEST
1 Pedersen Stretcher DEN 06: 10: 25
2 Vesterby Michelle DEN 06: 15: 32
3 Bugdol Ewa POL 06: 27: 37
4 Potuckova Eva CZE 06: 30: 43
5 Ledesma Eva ESP 06: 33: 00
6 Hyvärinen Heidi END 06:37:50
7 Kiviranta Merja FIN 06: 40: 15
8 Lie Kristin NOR 06: 46: 20
9 Koivula Venla FIN 06: 46: 58
10 Malmstram Henrika FIN 06: 50: 43
All results:
http://www.triathlon.org/results/results/2011_tampere_etu_long_dictance_triathlon_european_championships/5856