Excellent reception of TriMadrid Triathlon Club in Tres Cantos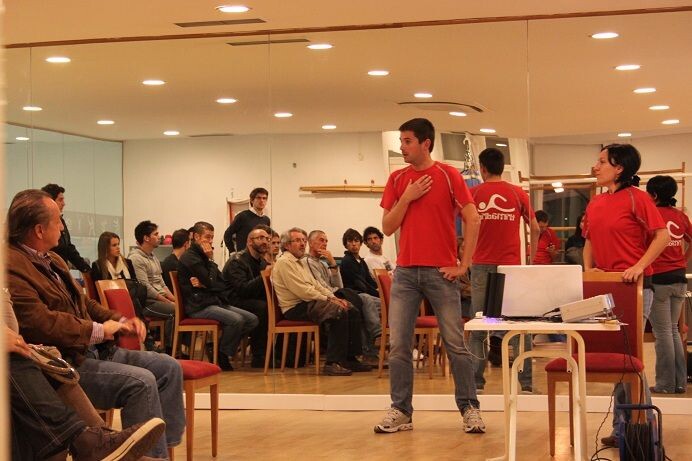 "A place to share experiences and learn TRIATHLON"
Athletes from the city of Tres Cantos and its surroundings, came to the Arturo Sport Sports Center on the afternoon of Saturday 26, to see first-hand the new project to create a Triathlon Club: TRIMADRID, which will be based in this town.
The city of Tres Cantos, and more specifically the sports center of Arturo Sport, has been in charge of hosting the Official Presentation of TRIMADRID.
From the hand of Juan José Martín Díaz, Director of the Center, who welcomed all attendees, Ángel Moncada, President of the Triathlon Club, began the presentation.
With the support of Antonio Gil and Susana Sancha, members of the Board of Directors, this initiative was presented. Among the highlights, they talked about how this project came about and the main objective of the club "To be a place to share experiences and learn Triathlon". Later, more specific topics were given, such as the planning of the club's training sessions and the planned competition calendar for 2012.
The initiative to create a "2.0" Club, where triathletes have access to all information through the web and its forum, was not to be overlooked. "We have an excellent communication tool, which is the Internet, and we thought, why not use it?"
In the words of Ángel, President of the Club, "Tres Cantos is a city that has all the necessary ingredients to practice this sport, young people, excellent parks, streets and a bike lane for training, as well as extensive athletics tracks and several indoor swimming pools. On the other hand, Arturo Sport has offered us great support when it comes to being the meeting point for our triathletes, in addition to having an excellent indoor pool in its facilities where swimming training can be carried out"
"Triathlon is a sporting discipline that is booming and Tres Cantos is a city that is committed to sport"
The President of the Club wanted to encourage all participants to take part in the main events of the regional calendar organized by the Madrid Triathlon Federation, among which he wanted to highlight the Cros Duathlon and Cros Triathlon that the city of Tres Cantos will host next year next year, and which is already a national benchmark in this sporting discipline. On the other hand, the Calendar of the various national events was presented, which can now be consulted on the website of the Spanish Triathlon Federation.
Once the presentation was over, the attendees were thanked, and various material was raffled off by the Triathlon Club collaborators: Arturo Sport, Bestiaz, FisioIslas and Ciclo Speed.
For more information: www.club.trimadrid.com