Excellent Performance of the Spanish team in the Africa Cup of Triathlon (LARECHE)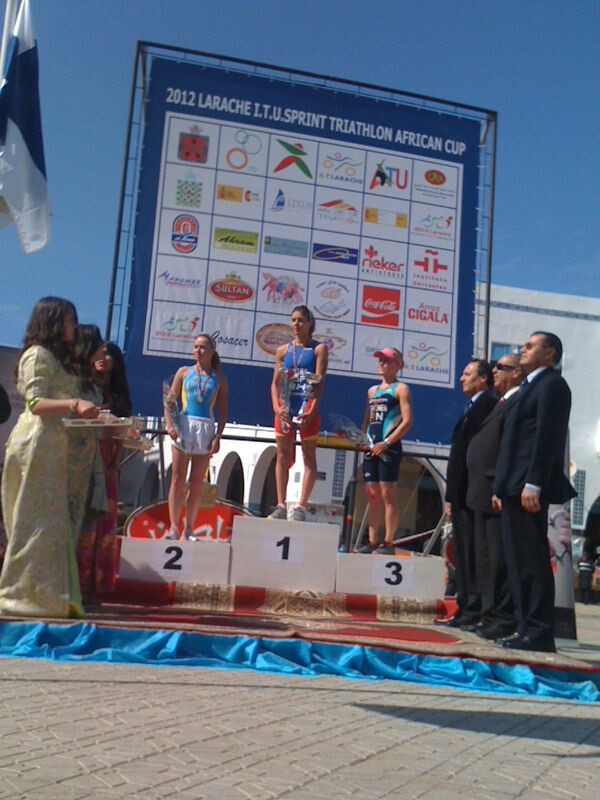 Last Saturday the African Cup of Triathlon was held in the coastal city of Lareche, on the sprint distance 750 meters by swimming, 20 km by bike to finish with 5 km of running.
Photo: FETRI
Highlight the performance of the Catalan Carolina Routier, who achieved first place on the podium after leading the test from start to finish. Top 10 for Marta Jiménez and Marina Damlaimcourt, 7th and 10th respectively. In the Top 20 we could see Anna Godoy 13th, Aida Valiño 16th, Estefanía Domínguez 17th and María Ortega 19th.
In the men's category, Spain was represented by 13 members of the national team. Gomar and Alarza took silver and bronze in the event respectively, also highlighting the performance of Vicente Hernández, 9th, Uxio Abuin 10th and Richi Hernández 16th.
TOP 10 FEMALE
| | | | | |
| --- | --- | --- | --- | --- |
| 1 | Truck | Carolina | ESP | 01:11:44 |
| 2 | Yelistratova | Yuliya | UKR | 01:11:51 |
| 3 | Lehtonen | Kaisa | END | 01:11:58 |
| 4 | Morello | Charlotte | FRA | 01:12:01 |
| 5 | Ryzhykh | Inna | UKR | 01:12:13 |
| 6 | Vanek | Margit | HUN | 01:12:20 |
| 7 | Jimenez | Marta | ESP | 01:12:27 |
| 8 | Knapp | Anja | GER | 01:12:36 |
| 9 | Fladung | Sarah | GER | 01:12:44 |
| 10 | Damlaimcourt | Marina | ESP | 01:12:47 |
TOP 10 MASCULINE
| | | | | |
| --- | --- | --- | --- | --- |
| 1 | Rouault | Grà © gory | FRA | 01:02:36 |
| 2 | Gomar | Jesus | ESP | 01:02:45 |
| 3 | Alarza | Fernando | ESP | 01:02:48 |
| 4 | Diemunsch | Etienne | FRA | 01:02:53 |
| 5 | Bowden | Adam | GBR | 01:02:57 |
| 6 | Loeschke | French | GER | 01:03:09 |
| 7 | Ivanov | Ivan | UKR | 01:03:11 |
| 8 | Harris | Aaron | GBR | 01:03:13 |
| 9 | Hernandez | Vicente | ESP | 01:03:14 |
| 10 | Abuin Ares | Uxio | ESP | 01:03:30 |