Triathlon News
Success of the Spaniards in the Sprint Triathlon Africa Cup in Larache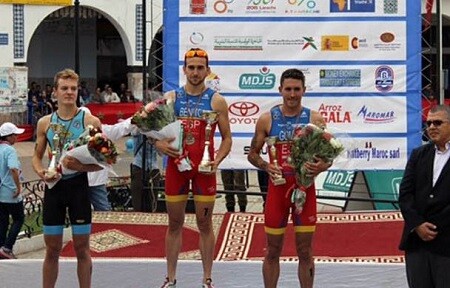 A superb performance by Antonio Benito has taken him to the top of the podium of the Sprint ATU Triathlon Africa Cup played on Saturday 24 October in Larache (Morocco).
Next to the title harvested by the triathlete tomellosero, Jesús Gomar He also won the bronze medal in the men's category. Together with an outstanding role of the rest of Spanish triathletes, among which the fourth place obtained by Marta Sánchez
A male podium that was decided Previously, Carlos Galisteo and Kevin Tarek Viñuelas had been the first to perform the 750 m of swimming in the Lukus River, with Benito completing the lagging segment of the front positions. However, the good work done in the cycling segment has helped to push him to the first places and after an excellent final section of the race, best part of the sector, Antino Benito, an athlete who is part of the training group of the CAR of Madrid, achieved impose itself, signing in turn its first international podium.
Next, Belgian Jonathan Wayaffe has qualified second and a splendid Jesus Gomar has repeated on the third step of the podium for the second consecutive year.
A date in which the Spaniards performed at a very high level by qualifying seven athletes in the Top-Ten. Jordi García Gracia completed a very regular test getting fifth place, followed by Ignacio González, 6º and Ricardo Hernández, 7º. After them Bruno Raso has obtained the 8th place, Roberto Sánchez Mantecón has been 9th, Camilo Puertas 11th, Jools Beardon 13th, Carlos Galisteo 14th, Viñuela 17th and Guillermo Ferrer, 22nd.
In the women's competition the victory would be for the Portuguese Melanie Santos, followed by the Charlotte Charlotte Deldaele and the New Zealand triathlete, Anneke Jenkins - silver and bronze respectively. After them, the young Spanish triathlete, Marta Sánchez crossed the finish line in fourth position, after emerging in the two initial segments of the test. Anna Godoy would be the next to cross the finish line entering 6th and re-highlighting in the water. After her, Melina Alonso completed her participation in 8th place and Delioma González qualified 11th.
FETRI, Photo Pep Lafont