Success in the II Week of Inclusive Sports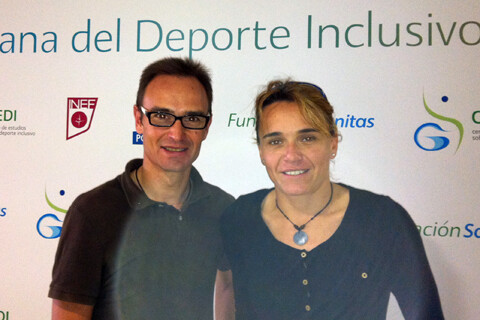 We could classify the reception of the II Inclusive Sports Week that is being held this week at the INEF as successful. Cristina Azanza, head of Paratriathlon in the Spanish Triathlon Federation, in her presentation yesterday made clear the work and effort made by FETRI to encourage the practice of this sport.
Spain is an international benchmark and is the country that currently has the most licenses in Paratriathlon, followed by Great Britain, this is largely due to the work carried out by the FETRI to promote and encourage participation in this category.
Under the title "Cycling and Triathlon: Guidelines for inclusion", the presentation began last Tuesday, October 18, where Félix García Casas, National Selector of Adapted Cycling of the RFEC and Cristina Azanza, Head of Paratriathlon in the Spanish Federation of Triathlon.
During the presentation, Cristina Azanza spoke to the participants about the background of Paratriathlon at a national and international level, its categories and the work carried out within the FETRI for its promotion, as well as the work that will be developed in the next 4 years to promote this modality and be able to be in the Paralympic Games of Rio 2016, with our best athletes. The attendees were very participative, ending both presentations with a very broad debate.
In the afternoon, thanks to the TAMBIEN Foundation, handbikes and tandem bikes were available. Participants were offered a small course on "Paratriathlete Helpers", this figure that is so important in this modality, both for getting out of the water and for transitions. Attendees learned first-hand about the material used by paratriathletes and enjoyed a practical session, simulating a Triathlon, in which everyone went through the different roles (assistant, paratriathlete).
In the following link you can find the interview with the speakers