Great Triathlon of Madrid: fantastic sports weekend at the Casa de Campo.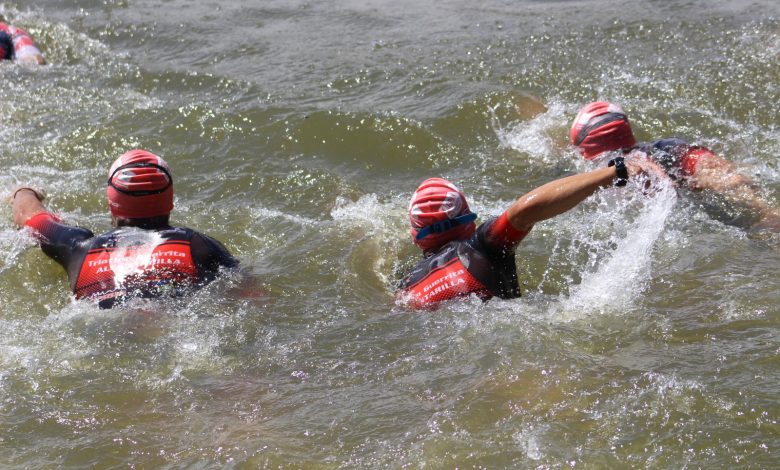 This weekend was held in Madrid the Great Triathlon Madrid, the Madrid triathlon party at the Casa de Campo.
More than 800 triathletes participated on Saturday in the distances sprint, super sprint y Olympic, individually or by teams (relays of two or three athletes).
Many rookies, a lot of nerves at the start, a lot of adrenaline in the competition and a lot of joy and satisfaction at the finish line, after the effort.
The cycling circuit, which starts outside the Casa de Campo (road to Castilla) has been a success. And also a short running circuit in an area of ​​trees and shade to beat the heat.
Saturday afternoon was dedicated to School Triathlon Circuit, with more than 500 participants in the youth, cadet, infant, alevín, benjamín and prebenjamín categories.
And on Sunday, the big day of the clubs with the Madrid team time trial triathlon championship, the proof of shared effort with precious images of camaraderie in such an individual sport.
Identical masculine and feminine podium, occupied by the Imps from Rivas, Marlins Triathlon Madrid y Tri-Infinity of Mostoles.
It is the first edition of the test and the intention is to repeat it next year to continue promoting the beautiful sport of transitions between the people of Madrid and those who want to visit us to join us.
Athletes from Castilla La Mancha and Castilla León, Murcia, Catalonia, Euskadi, Aragón, Andalusia, and even some from outside Spain who have come to do tourism and have decided to participate have participated in the test.
Learn More https://grantriatlonmadrid.com/