Success of the Paratriates in the Paratriathlon World Cup in A Coruña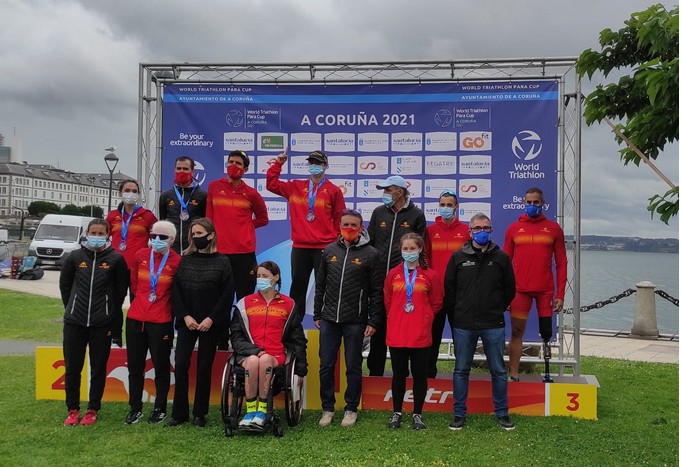 The Spanish paratriarmada achieved a good harvest of medals in the Paratriathlon World Cup A Coruña 2021, the last test of the cycle prior to the Paralympic Games in Tokyo.
Great sports day, despite the complication of some occasional rains, with almost a hundred participants representing 29 countries who enjoyed the routes in the Galician city and the hospitality of A Coruña.
In the PTS2 category of the A Coruña 2021 World Cup, Verónica Yoko, from Italy, and Mikhail Astashov, from Russia, were champions.
Completing the podium with silver and bronze respectively Liisa Lilja, for Finland, and Veronika Gabitova, for Russia; and Lionel Morales and José Joaquín Rincón, for Spain.
Andrea Miguelez and Dani Molina, for Spain, achieved the victories in the PTS3 category, followed by Evgeniya Koroleva, from Russia, and Coline Grabinski, from France; and Michael Herter, for France, and Kini Carrasco, for Spain.
The Spanish Marta Francés and the British Michael Taylor prevailed in the PTS4 category, completing the podium of honor Elke Van Engelen, for Germany, and Carmen González, for Spain; and Alejandro Sánchez Palomero, from Spain, and Jorge Luis Fonseca, from Brazil.
The British Lauren Steadman and the Canadian Stefan Daniel were champions in the PTS5 category, in which Claire Cashmore, for Great Britain, and Jairo Ruiz, for Spain, hung the silver; and Kamylle Frenette, from Canada, and Ronan Cordeiro, from Brazil, the bronze.
The spectacular PTWC and PTVI categories also left good news for Spain and offered great races that the city of A Coruña enjoyed.
In PTVI, the Galician Susana Rodríguez, with her guide Sara Loher, achieved the female victory, while the male one was for the French Arnaud Grandjean, with her guide Toumi Degham.
The French Annouk Curzillat, with her guide Celine Bousrezz, and the British Oscar Kelly, guided by Charlie Harding, scored silver, while the bronze went to the Canadian Jessica Tuomela, with her guide Marianne Hogan, and to the Irish Donnacha McCarthy , with your guide Nial Cornyn.
In the wheelchair category, PTWC, Brazilian Jessica Ferreira and Frenchman Louis Noël achieved victory in the last Paratriathlon World Cup before the Paralympic Games.
Eva María Moral, for Spain, hung the silver medal, which in the men's category was won by the Tunisian Fathi Zwoukhi. The bronze went to the Italian Rita Cuccuru and the Russian Semen Radaev.