Total success in the 3 TriGrandPrix Navarra 2011 Stage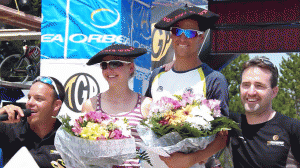 Total success in Stage 3 TriGrandPrix Navarra 2011, Aritzaleku Triathlon 2011.
The third leg of the TriGrandPrix kicked off Friday with a wine tasting and dinner. On Saturday, 450 triathletes completed the Sprint triathlon, Super Sprint and the Children's triathlon with a great atmosphere, food, pasta party and "Mariachis" at night.
On Sunday at 8:00 it was the turn of the middle distance, where Estefanía Gómez was the first to leave the water with a time of 28:43, followed by Lucy Gossage with 29:29 and Ana Monreal with 29:42.
Lucy Gossage led, she took the lead in the cycling sector and did not leave until the end with a time of 4:36:54 followed by Ana Casares who was proclaimed Navarre Champion with 4:55:50 and Estefanía Gomez in third place with 4 : 59: 39.
In the men's competition, Miquel Blanchart took the initiative from the start to the finish line. Blanchart swam 1,9 K in 24:04, it took him 02:20 by bike and in the race sector he spent a time of 1:16:19 finishing with a time of 4:01:18 at the finish line.
Raúl Amatriain, TriGrandPrix leader, came out 5 º from the water with 26:59 and kept the distance in the cycling circuit, obtaining the best time in the 2nd km. I finished second in the test with a time of 4:04:28. Third, Unai Yus with a final time of 4:17:41.
Top 5 Men:
Miquel Blanchart 4: 01: 18
Raul Amatriain 4: 04: 28
Unai Yus 4: 17: 41
Xavi Boneta 4: 23: 50
Iker Rozas 4: 24: 24
Top 5 Femenino:
Lucy Gossage 4: 36: 54
Ana Casares 4: 55: 50
Estefania Gomez 4: 59: 39
Saioa Olite 5: 15: 00
Ana Monreal 5: 20: 59