Expo Marató Barcelona shows the latest news in the world of triathlon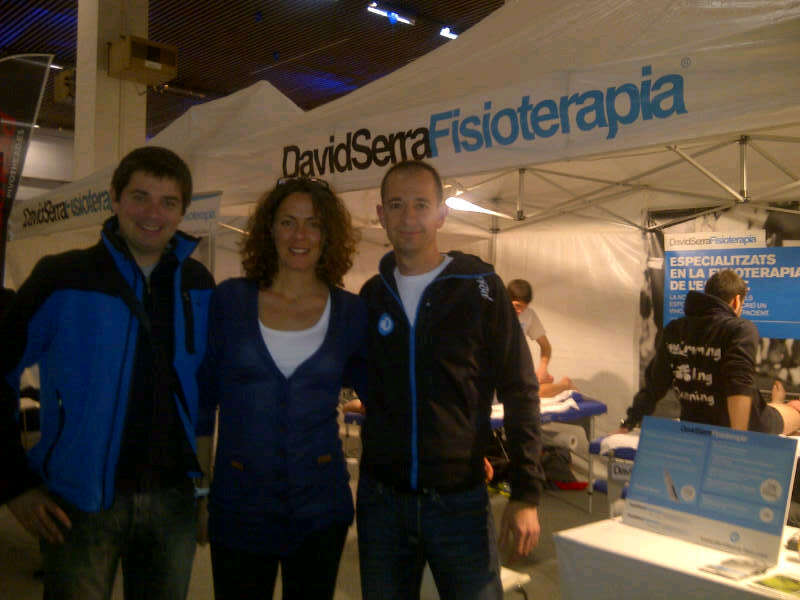 During this weekend Triathlon News attended one of the largest Triathlon EXPO held in Barcelona on the occasion of Zurich Marató de Barcelona.
With more than 150 booth that offered the latest news in the world of Running y triathlon We were able to share a few minutes with our collaborators, David Serra, in charge of Physiotherapy section in Triathlon News and Sandra Sardina, in charge of Nutrition section, thanking them in this way for their time and involvement with this means of communication as well as with all their followers.
In addition to this we could know the latest news in the world of triathlon as it was Technojetswim, a new "concept" to be able to perform swim training without moving from home, as well as other stands that showed new fabrics for equipment in the world of triathlon and running as is the case of ZOOT, where Carlos Mir He informed us of the latest news from this brand, as well as other sportswear stands and the latest news in sports shoes. Another sector with a presence was sports nutrition.
Isidro Merchan He showed us the new circuits and product updates of the brand BKOOL, a team that allows you to enjoy cycling with maximum motivation both indoor and outdoor and that is presented as a real revolution for sports enthusiasts and new technologies that gives you the ability to make and share your workouts by bike without moving From home.
In addition, during this event we shared experiences with various event organizers and Triathlon News contributors. WILD WOLF Triathlon Series by POLAR and hand Mauro Llorents, as Brand Manager of the brand, he told us the latest news about the tests he has today, an appointment that has been consolidated as the largest Popular Triathlon circuit in Spain with 10 venues for this 2013.
CHALLENGE BARCELONA, also had a prominent presence in this EXPO, a date that will host this year the European Triathlon Championship where you can enjoy a real duel between great stars of the Triathlon as they are Macca y Noya, as well as hosting the Spanish Long Distance Triathlon Championship next October. During the visit Agustí Pérez, Race Director, Jordi Pérez and Francesc Camarasa, they informed us of the last details of the event, a unique opportunity to compete with the greatest of the Triathlon.
ISOSTAR EXTREME MAN, It attracted a large number of triathletes to its stand, a test that has been consolidated as far as Media Distance is concerned and which this year has already confirmed the presence of great triathletes as they are Marcel Zamora, Virginia Berasategui, Raúl Amatriain, Gurutze Frades, Xavi LLobet, Miquel Erguezabal…among others. On this occasion we were able to talk with Juanan Fernández, Brand Manager of the brand, who seems to have prepared another great surprise for the appointment of ISOSTAR EXTREME MAN Getxo that will take place next 07.07 and that very soon will remain revealed ....
As a finishing touch, we were also able to share a few minutes with the organizers of ECODUMAD, duathlon cros, and ECOTRIMAD, another of the great tests of medium distance at national level that takes place in a spectacular setting in the Sierra de Madrid, specifically in Buitrago de Lozoya and that has already confirmed the presence of more than 600 participants in this event. Ramiro Lahera, Joaquín Peces y Antonio de la Rosa they told us in detail all the news for this 2013.
An intense weekend sharing experiences at the Reference Expo of Running and Triathlon in Spain.