Getxo 113 Getxo will meet great international stars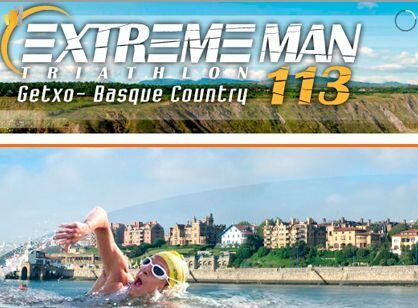 The town of Getxo, located in one of the most spectacular coastal areas of the Basque Country, will host on May 13 the first appointment of the Medium Distance Triathlon "113" under the quality seal of "Extreme Man"
"Extreme Man", a brand endorsed by the sports events organization company Win Sports, has managed to position itself in recent years as one of the best medium and long distance triathlons of the moment.
Renowned international triathletes will meet in this test next May, among whom we will have François Chabaud, Oliver Marceau, Miquel Blanchart and Chabaud, who will fight until the last moment to take the top positions on the podium.
Getxo's Extreme Man will take place over the distance called "113", which is the sum total of the three segments: 1900 meters of swimming, 90 km by bike to finish with 21 km of running.
Through the event website http://www.extreme-man.com/ You can now discover the spectacular circuits on which the route of this test will run.
An appointment that has room for everyone, from the popular federated, or not federated who wants to try the long distance but in an affordable way, to triathletes of recognized international prestige.
In addition, and thanks to the collaboration agreements obtained by the Extreme Man organization, the participants will be able to count on the POWERADE energy drink brand (belonging to the Coca Cola group) that will be the official event. GU, has also joined this great Triathlon party, to offer triathletes the best gels and energy candies during the competition. Triathletes will be able to count on all this in the refreshment areas of the cycling segment and running, as well as water, assorted fruit and pasta.
For more information on the test visit: http://www.extreme-man.com/emgetxo/