Triathlon News
Fernando Alarza and Javier Gómez Noya for the leadership of the Montreal World Series
Fernando Alarza is third and Javier Gómez Noya fourth in the World Ranking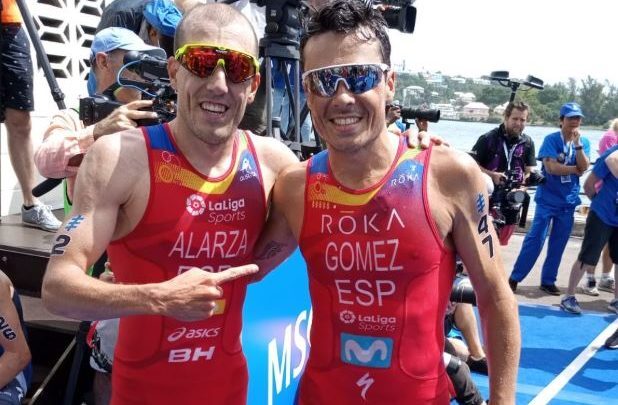 This next weekend the fifth appointment of the World Series of Triathlon 2019 in Montreal (Canada), where this time it will be about sprint distance.
Everything is ready for the next Saturday June 29 We can see a new test of the WTS circuit. Javier Gómez Noya 5 times world champion, Fernando Alarza, third in the World ranking and Mario Mola 3 times world champion consecutively lead the triarmada at the WTS Montreal, where they will also be Vicente Hernández, Antonio Serrat y Carolina Routier
With the absence of the leader Vicent Luis, leave the options open so that both Fernando Alarza as Javier Gómez Noya try to get the victory and the first place in the world cup. The rival to beat will be the South African Henri Schoeman who is second in the ranking with 73 points ahead of Alarza and 106 over Noya. The British youth Alex Yee neither will participate.
It will also be necessary to take into account Richard Murray or the Norwegians Blummenfelt, Iden y Stornes among others.
Mario Mola He will seek to improve the position of the past tests and return to the podium in the sprint distance after three bad results. It is currently 13th in the Ranking
Men's WTS Montreal 2019 start list
Alarza and Noya with options to put themselves as leader of the World Cup
The victory of a world series awards 1.000 points to the winner, so if Fernando Alarza if he wins in this test, he would take the lead, surpassing Schoeman. In the case that Noya or Alex Yee will win, Alarza would take the lead whenever he is second and Schoeman fourth.
In the case of Javier Gómez Noya, he would only become the leader if he won the race and Schoeman was third.
You can check in the following link the Current WTS ranking
Javier Gómez Noya in search of the podium in the Sprint distance
The Galician triathlete participated last weekend in the IRONMAN 70.3 European Championship in Denmark, where he was second followed by Pablo Dapena third.
He comes to the test with the intention of continuing to fight for the World Cup, it was second in Bermuda, room in Yokohama (Japan) and third in Leeds (England) and has less participation than its direct ranking rivals. We recall that for the World Ranking the 5 best places score plus the one achieved in the Grand Final in Laussane (Switzerland).
Zaferes in search of his fourth victory in the WTS
The American Katie Zaferes, winner of all tests this season, is the world leader with 3.925 points, 611 more than the British Jessica Learmonth, and 616 on Taylor Spivey third, with 3.249. Zaferes will continue as leader if he enters the top 15 of the test.
Women's WTS Montreal 2019 start list
How to follow the WTS Montreal live?
The test can be followed live through TV and various online channels.
Female test:
Date

: June 29, Saturday

Local time

: 14: 36 PM

Spanish time

: 20: 36 PM
Male test
Date

: June 29, Saturday

Local time:

16: 36 PM

Spanish time

: 22: 36 PM
Direct:
By television
By Web:
You may also be interested in this