Triathlon News
Fernando Alarza and Vicente Hernández on the podium of Quarteira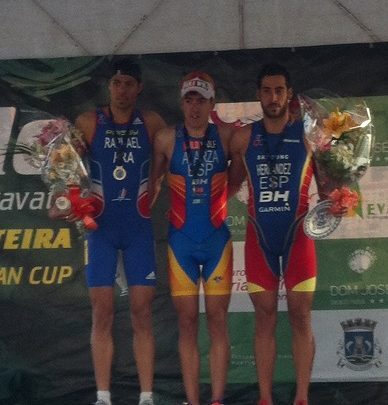 A stunning Fernando Alarza has been proclaimed winner of the Triathlon European Cup in the elite male category.
Vicente Hernández He has also climbed the podium, obtaining the bronze medal, in a large exhibition of our triathletes who have occupied five places in the Top-10.
The Frenchman Aurélien Raphael started the competition with a very strong pace, followed among others by Fernando Alarza, Cesc Godoy, Pablo Dapena and Vicente Hernández. During the cycling sector a group of nine triathletes remained in charge leading the contest.
Arrived at the last segment, the triathlete of Talavera de la Reina offered all her deployment marking differences with the rest. Alarza was consolidating his advantage in the course of the career on foot, to end with an income of more than one minute over the second classified, the Raphael Gallo. While Vicente Hernández completed the podium in third position.
Likewise, it is worth mentioning the good work of Cesc Godoy, occupying the top positions for a good part of the test and finishing in a meritorious 5ª place, together with Jesús Gomar in sixth place.
Behind them, the Galician Uxio Abuín entered a leading ninth place. Behind, Ricardo Hernández achieved the 16ª position; Pablo Dapena was 21º; Emilio Aguayo, 33º; Bruno Raso, 35º; Pau Castellvell, 41º; Óscar Vicente, 47º; Brais Canosa, 48ª; Fernando López, 54º; Alejandro Cañas, 56º; Sergio Correa 58º; Javier Senent, 61º and Daniel Hurtado, 62º. While David Castro was forced to leave in the bike segment.
FETRI
You may also be interested in this