Flora Duffy 2021 Triathlon World Champion
The victory in the Grand Final has been for Taylor Knibb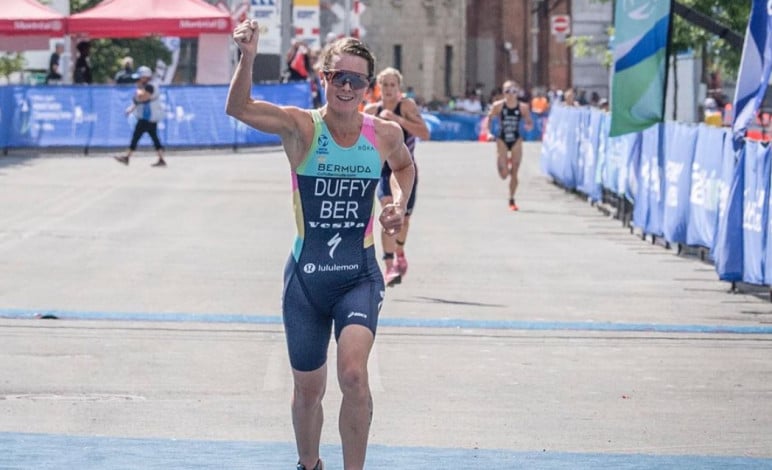 Today it has been played in the city of Edmonton (Canada) the Grand Final of the Triathlon World Series 2021 where the best triathletes on the circuit have been.
For this test, the last of the WTS 2021, the Bermudian Flora Duffy she arrived as the leader of the ranking with more than 460 points of advantage and was the clear favorite.
He also came to this test after having achieved Olympic gold in Tokyo and sweeping the WTS in Montreal last week.
In the race the North American Taylor Knibb has given the surprise leaving in the cycling segment and reaching T2 with almost 3 minutes of advantage and finally taking the final victory
It has done with a time of 1: 54 :: 47 followed by the French Leonie Periault (1: 55: 43) and for Flora Duffy (1:56:11) and because it has occupied the third final position.
Flora with this third place in the Grand Final has been the best triathlete of the season consequent on the world title in the 2021 season.
Regarding the Spanish representation, we only had the presence of Miriam Casillas which has been 20th
A track record in style
Flora, has 5 XTERRA world championships, 1 Olympic gold medal in Tokyo 2020 and 3 world triathlon titles, 2016, 2017 and now in 2021.
With the victory in the World Cup, she has become the only woman to win the Olympic Gold and the Triathlon World Cup in the same year.
Classification
| | | | | |
| --- | --- | --- | --- | --- |
| Position / Bib | Athlete | Country | Time | Difference |
| 1 # 4 | Taylor Knibb | USA | 1:54:47 | |
| 2 # 8 | Leonie Periault | FRA | 01:55:43 | + 00: 00: 56 |
| 3 # 1 | Flora Duffy | BER | 01:56:11 | + 00: 01: 24 |
| 4 # 6 | Katie Zaferes | USA | 01:56:14 | + 00: 01: 27 |
| 5 # 2 | Taylor Spivey | USA | 01:56:16 | + 00: 01: 29 |
| 6 # 3 | Maya Kingma | NED | 01:56:23 | + 00: 01: 36 |
| 7 # 5 | Sophie Coldwell | GBR | 01:56:46 | + 00: 01: 59 |
| 8 # 7 | Laura Lindemann | GER | 01:56:56 | + 00: 02: 09 |
| 9 # 24 | Vicky Holland | GBR | 01:57:32 | + 00: 02: 46 |
| 10 # 14 | Kirsten Kasper | USA | 01:57:47 | + 00: 03: 00 |