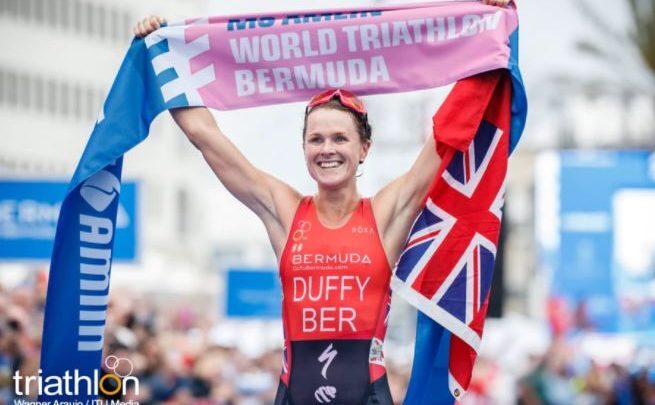 {wbamp-meta name = »image» url = »images / stories / news_08 / flora-duffy-gana-wtsbermudas.JPG» width = »300" height = »150"}
The athlete who competed at home has fulfilled the forecasts and has achieved a clear victory
After the surprise in the male test where the Norwegian Casper Stornes getting the victory came the turn of the females, where we had no Spanish representation later, the accident suffered at the beginning of the week by Carolina Routier
The women's race was a monologue of the local triathlete Flora Duffy. The one from Bermuda ran at home, wrapped up by its audience that crowded the streets of Hamilton. And she did not disappoint, providing a great show and showing that today is almost unbeatable.
He started dominating the swimming segment, later he was leading the cycling sector alone almost entirely. And then I continued adding seconds of advantage in each lap until I reached the finish line.
Finally achieved the victory with almost two minutes ahead of the two triathletes who would accompany her on the podium. And the emotion of the test was behind, in the fight for medals.
The American Katie Zaferes was the first to try to secure the money, leaving the first of the second transition. Behind, the British Vicky Holland was cutting the North American meters until hunting at the end of the first of the four laps that made up the 10 kilometers on foot.
The two triathletes went together to the finish, with Zaferes always ahead. He even tried to change the pace to 500 meters from the goal, but Holland did not take off and they reached the finish line with everything to be decided.
After an agonizing final sprint and using photo finish technology the British used to hang the silver medal being the bronze for Zaferes. On this occasion the Spanish expedition did not have triathletes in the starting line, waiting for the next World Series, in Yokohama, where the Olympic classification begins to start adding points for Tokyo 2020.
Classification
| | | |
| --- | --- | --- |
| 1. | Flora Duffy | 2: 01: 39 |
| 2. | Vicky Holland | 2: 03: 25 |
| 3. | Katie Zaferes | 2: 03: 25 |
| 4. | Kirsten Kasper | 2: 05: 40 |
| 5. | Yuko Takahashi | 2: 05: 51 |

SANTINI born with the aim of offering unique garments to athletes passionate about cycling and triathlon. Enjoy a unique experience in comfort while wearing clothes with exclusive style and the maximum technology that guarantee greater performance. Unique garments designed by and for the Triathlete.
Photo: ITU MEDIA / Wagner Araujo