Flora Duffy wins the Hamburg World Series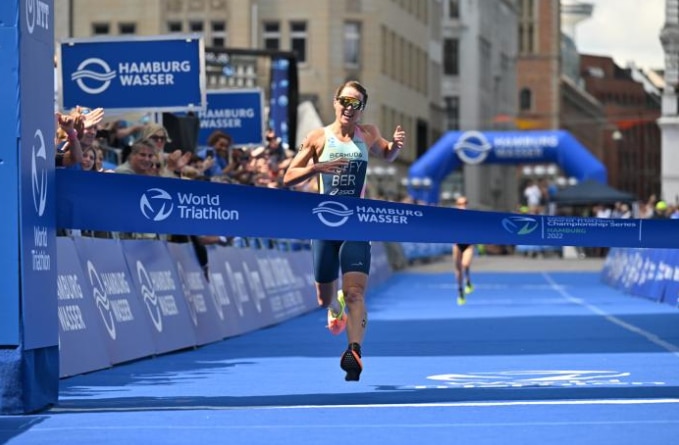 Today the sixth appointment of the Triathlon World Series in Hamburg where the Bermudian Flora Duffy He has taken the victory.
First out of the water was Summer Rappaport leading a very tight group with all the favourites.
In the cycling segment, a leading group of 15 units was formed with Sipvey, Duffy, Linderman, Potter among others, leading the chasing group by 40 seconds on the 2nd lap.
In T2, the leading group arrived at the head with a 38-second advantage over their pursuers to start a fast race.
In a nice duel between Flora Duffy and Beth Potter, the Bermuda finally got the victory in a time of 58:37 followed by Potter (58:43) and Lisa Tertsch (58:53) in third position.
Miriam Casillas, the only representative in this test finished in the 48th final position.
Georgia Taylor-Brownlee continues to lead
The North American Taylor-Brown continues as the leader of the 2022 circuit followed by Flora Duffy who has risen 3 places and is now second. Third is Beth Potter
See the lens assembly tutorial 2022 World Series ranking
Top 10 female
| | | | |
| --- | --- | --- | --- |
| Pos | Athlete | Country | Time / Difference |
| 1 # 3 | Flora Duffy | BER | 0:58:37 |
| 2 # 1 | Beth Potter | GBR | 00:58:43 +00:00:07 |
| 3 # 21 | Lisa Tertsch | GER | 00:58:53 +00:00:17 |
| 4 # 2 | Taylor Spivey | USA | 00:58:58 +00:00:22 |
| 5 # 5 | Laura Lindemann | GER | 00:59:00 +00:00:24 |
| 6 # 6 | Anabel knoll | GER | 00:59:03 +00:00:27 |
| 7 # 14 | Maya Kingma | NED | 00:59:06 +00:00:30 |
| 8 # 7 | Sian Rainsley | GBR | 00:59:08 +00:00:32 |
| 9 # 31 | Nina Eim | GER | 00:59:09 +00:00:33 |
| 10 # 20 | emy legault | CAN | 00:59:11 +00:00:35 |