Francesc Godoy wins the African Cup in Agadir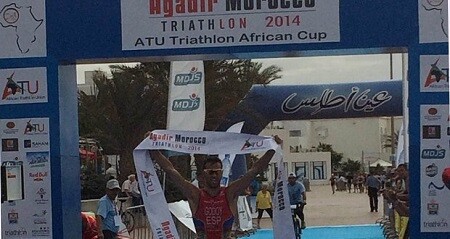 Cesc Godoy has climbed to the top of the podium in the African Cup held this November 1 in Agadir (Morocco).
The Spanish triathlete has remained in the outstanding positions of the competition at all times, to finally achieve a splendid victory in a meeting in which the rest of Spaniards have also reaped great results.
Godoy led the initial segment of 1,5 km of swim and then position himself in the front group during the four laps of the cycling route. Along these 38,4 km, shared group in the leadership with Roberto Sánchez Mantecón, Pedro Lopez De Haro, Fernando Lopez De Sagredo, Luso Filipe Azevedo and Brazilian Wesley Matos.
Everything was open for the 10 km final race on foot. A stretch of two laps in which a sensational Godoy cemented his triumph by marking the second best partial of the segment to take the victory with a final time of 01: 55: 07. Azevedo confirmed his great career by entering second, 34 second of the winner. While his compatriot Danilo Pimentel I flew to third place, registering the best partial of the final km 10.
For its part, in a great performance Pedro López De Haro ascended to fourth place, with Fernando López De Sagredo entering seventh. At his side, Amancio Guerrero got the eighth place and Roberto Sánchez Mantecón got the tenth position, Unfortunately, the other Spanish, Jesús Gomar He had no options when he had to retire at the initial moments of the competition.
Good role for the Spaniards in this end of the season, with five of the six triathletes in contention entering the Top-10 of the final classification. For its part, a magnificent Cesc Godoy concludes the season at the top of the podium.
FETRI