Francesc Godoy achieves his pass to the final of Tiszaujvaros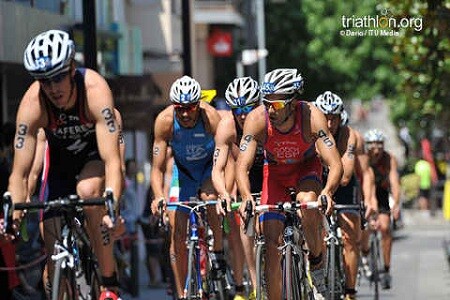 For the second consecutive year Triathlon ITU World Cup Tiszaujvaros, disputed this Saturday 10 of August in distance sprint (750m-20km-5km), has been celebrated in an original format consisting of several rounds of semifinals that grant places for the finals next Sunday.
In the male elite category four semifinals have been disputed that have given the pass to the final to the first seven triathletes of each series. To these we must add two more places, which have been assigned to the next two best times.
The three Spaniards in contention have had mixed luck in their respective seminars, with Cesc Godoy reaching the classification for the final after starring in a great performance. The Barcelona, ​​who has marked the best partial in the initial segment of swimming, has remained in the top positions throughout the competition, achieving direct qualification for tomorrow's final by entering seventh in his series. Previously, the Galician Óscar Vicente he has finished in 19ª position in his semifinal, losing his options to enter the final.
While in females, each of the two semifinals qualified the fourteen first triathletes; to which two other places have been added for the next best times. The Madrilenian Marta Jiménez, who has participated in the second semifinal of the afternoon, has been at the gates of the final to finish 17ª.
On Sunday the Hungarian locality will host the finals, starting with the female elite from the 15: 45 hours. The turn for the male elite with Cesc Godoy between the contenders, you will arrive at the 17: 00 hours.
FETRI