Francesc Godoy wins the Triathlon Series by Polar de Castellón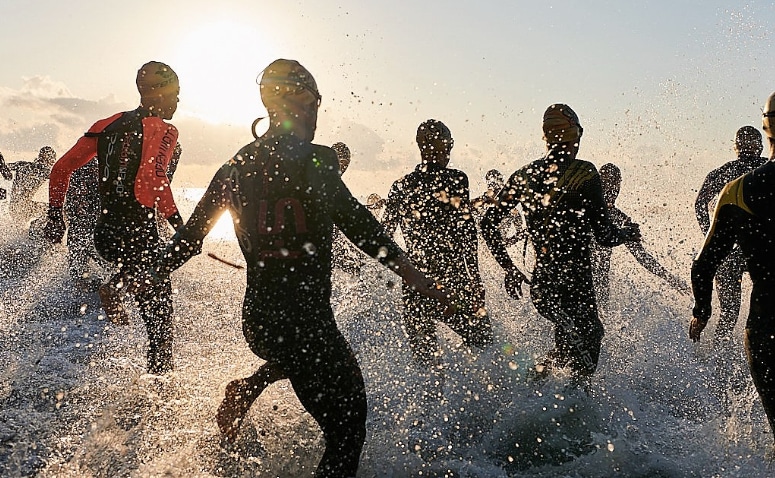 The Castellón coastline has experienced an intense weekend, to the rhythm of the Triathlon Series by Polar, the largest popular triathlon circuit in Spain. With the participation of almost 900 triathletes registered in one of the three modalities proposed by the organization, the Castellón triathlon has been a unique and novel opportunity for the region and its inhabitants to celebrate the sport. In the Olympic distance, Marta Ferrer and Cesc Godoy have imposed themselves with great authority.
The objective is accomplished. In the post-finish area, where triathletes can refresh themselves after their effort, surprise is the most common feeling among the Castellón Triathlon participants. The novices, especially, have found their first experience "surprising", "funny", "sensational". Those are some of the usual adjectives attributed to the Triathlon Series by Polar, which had its second stage of the year on the Costa Azahar, after Madrid in June and before Barcelona next week.
On the sporting side, Cesc Godoy (CN Barcelona) was the strongest in the main start (Olympic distance), taking advantage of his good collaboration with Xavi Llobet (CT Manresa) by bike. In the first transition the two men managed to escape, but from the start of the race on foot, Cesc has made the difference to win the test. Xavi Llobet has maintained his advantage without problems, ahead of Albert Parreño (C VO2) who completes the podium.
In the female category, Marta Ferrer (CTH-Tecnibat) takes the victory thanks to her good partial bike. Nathalie Alexander (independent) and Nuria Castells follow her on the podium.
Men's Olympic Classification:
1-Francesc Godoy (CN Barcelona 01:43:55
2-Xavier Llobet (CT Manresa) 01:45:35
3-Albert Parreño (C VO2) 01:51:06
Olympic Women's Classification:
1-Marta Ferrer (CTH-Tecnibat) 02:10:00
2-Nathalie Alexander (independent) 02:10:10
3-Nuria Castells (Suheca.com) 02:12:07