Francesc Godoy and Marta Tello winners in the Canet d'En Berenguer triathlon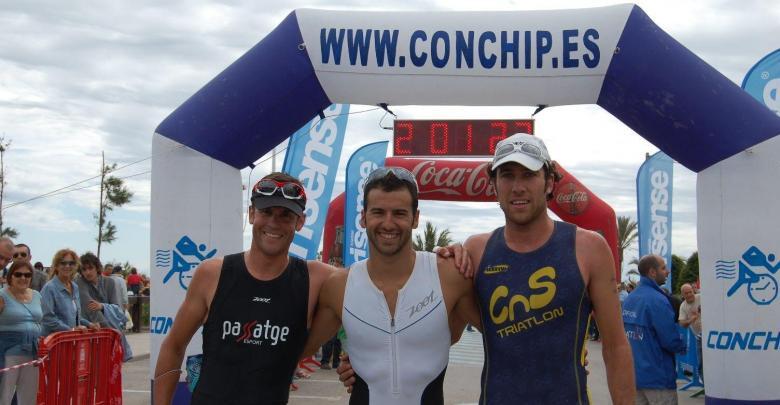 Canet d'En Berenguer held the II Racó de Mar Camp de Morvedre Olympic Triathlon yesterday, which brought together 450 participants from all over Spain and especially from the Valencian Community, since the test was valid for the regional league of clubs.
The company Ironmad Tri was in charge of organizing this event, which installed its operations center in the Plaza de los Pescadores on the seafront. In that area you could see the spectacular transitions between the sectors, which opened with 1.500 meters of swimming, continued with 40 kilometers of cycling and ended with 10 kilometers on foot.
The spirits of the large audience marked the development of the race, in which Francesc Godoy (CN Barcelona) prevailed, who dominated the three sectors in a total time of 1 hour, 53 minutes and 48 seconds. The winner, in very good shape, broke the race in the second lap of the swimming circuit, where he distanced himself from Llobet. In a very fast cycling sector, he imposed a brutal pace, distancing himself even more from his pursuer. His average in the 40km was over 42km / hour, alone!
Xavi for his part had a great race, although he was physically somewhat impaired due to the fall on his bike suffered last week. The third classified was Emilio Aguayo Muñoz. In females, the winner was Marta Tello Varea from CT A Corre-Huita.
In the female category, Marta Tello (CT to Corre Cuita) was the fastest with 2 hours and 21 minutes, followed by Nuria Castells (Suheca.com) and Marta Ferrer (CTH Picassent). Among the local participants, the best was Joaquín Catalá (CT Villareal) on a podium completed by Chema Saya and David Llueca.
Despite the heavy rains the night before, the event proceeded without major setbacks, beyond a fall in the cycling sector such as the one suffered by Carlos Espinosa, who was transferred to the Sagunto Hospital with a broken clavicle.