France wins the European Men's Youth Relay Championship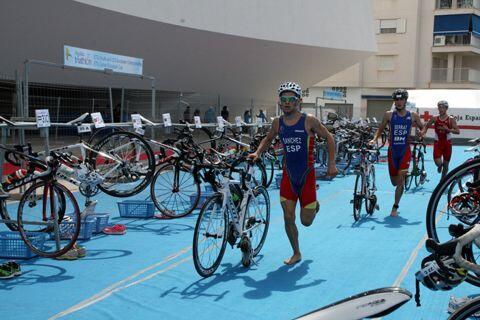 This Saturday 1 of September, Águilas has hosted the European Youth Men's Relay Championship, which has had the participation of 20 teams. Each team has been composed of three relievers who have each made a first segment of 300 m swimming with departure at the Playa de las Delicias, followed by 8.4 km of cycling and 2 km of running on foot through the town of Murcia, before give the witness to the next member of his team.
The test has developed at a strong pace, with the Hungarians and Portuguese standing out in the early stages of the competition. Once again, the aquiline have turned to triathlon, supporting all the young participants through the streets of the city.
The French team has been proclaimed European Champion of Men's Youth Relay, followed by the Hungarian team, silver, and the Norwegians bronze. While the Spanish have achieved a remarkable sixth place in the European. The Spanish team has been made up of Aleix Domenech, Ignacio González and Antonio Serrat; all of them have given a great performance, demonstrating their good progression.
European Youth Relay Men's Classification:
1 France 1: 20: 13
2 Hungary 1: 20: 36
3 Norway 1: 21: 08
4 Portugal 1: 21: 47
5 Great Britain 1: 21: 56
6 Spain 1: 22: 03
Test classification:
1 France - Team A - 1: 20: 13
2 Hungary - Team A - 1: 20: 36
3 Norway - Team A - 1: 21: 08
4 Portugal - Team A - 1: 21: 47
5 Portugal - Team B - 1: 21: 54
---
7 Spain - Team A - 1: 22: 03
11 Spain - Team B - 1: 23: 28
FETRI