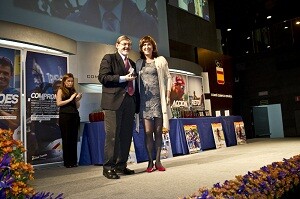 Yesterday it was held in the headquarters of the Spanish Olympic Committee (COE) the gala of the Spanish Triathlon 2010. a great year for the Spanish Triathlon.
From the hands of Marisol Casado, president of the International Federation (ITU) and who for a year has been, together with Juan Antonio Samaranch, Jr., the only Spaniard who is a member of the International Olympic Committee (IOC), it was delivered to Jaime Lissavetzky, Secretary of State for Sport and President of the Higher Sports Council (CSD), the gold medal of the Spanish Triathlon Federation (FETRI)
Lissavetzky, who had words of praise for both the president of the Spanish Olympic Committee, Alejandro Blanco, and Marisol Casado, president of the International Triathlon Union, of which he indicated that "the fact that he is a member of the IOC and, furthermore, being a woman is a source of pride for this country".
"We need voices like yours so that the work that is done from Spain is known", said Lissavetzky, who affirmed that Spain is an international sports reference.
Marisol Casado thanked the Secretary of State for Sport "for the work done over the years, especially on the issue of women and sport." "It is a very important job that has been done and is being done." indicated Casado, member of the IOC.
On the other hand, highlighting the presence of Javier Gómez Noya, double world and European champion and triple winner of the Triathlon World Cup, who was the great star of a gala that was also attended, among others, by Alejandro Blanco, president of the Spanish Olympic Committee (COE), José Hidalgo, head of the Spanish federation, and Mercedes Coghen, General Director of Sports at the Madrid City Council.
During the gala, in which numerous trophies and mentions were awarded to all the athletes who during this past year 2010, have been a reference in the Spanish triathlon.
A very special thank you to Felipe Gutiérrez, Director of Competitions, for presenting this Gala for another year. Highlight his work and effort to offer us a 2011 sports calendar, full of increasingly international events, in which the Triathlon World Series to be held in Madrid, in June, and the Duathlon World Cup, in Gijón, to stand out. end of september.
Source: www.triatlon.org