Genis Grau second in the Lievin European Cup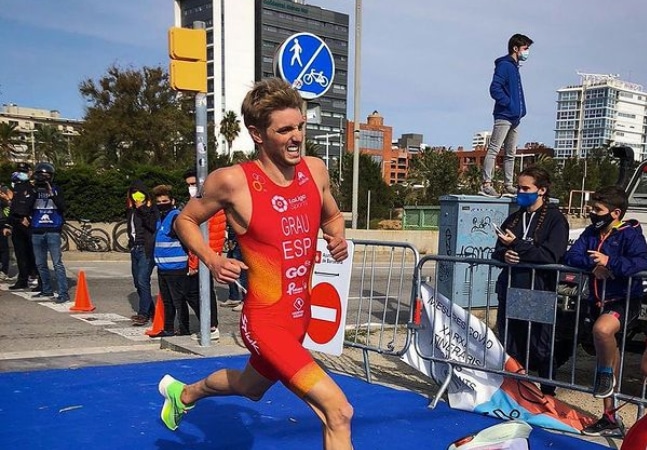 Today a new edition of the spectacular Indoor Triathlon European Cup was held in Lievin (Fracnia).
The test has been held at the Arena Stade Couvert in the town over a distance of 150 meters swimming, 3.000 meters cycling and 1.000 meters running.
The competition has been played in a knockout and final format where 3 Spaniards have reached the last round, Anna Godoy, Paula del Pozo and Genis Grau.
In the men's event, the double world champion Vicent Luis He has taken the victory with a time of 9:33 followed by the Spanish Genis Grau (9:34) and by the Hungarian Csongor Lehmann - 9:35
In the women's event the victory has been for the German Nina Eim with a time of 10: 35 followed by Lisa Tertsch (10: 37) and by jolien vermeylen (10: 38) in third position.
As for the Spanish Paula from the Well It was ninth and Anna Godoy 11 º
Male classification
| | | |
| --- | --- | --- |
| ATHLETE FIRST | ATHLETE LAST | TOTAL TIME |
| Vincent | LUIS | 00:09:33 |
| Genis | GRAY | 00:09:34 |
| Csongor | LEHMANN | 00:09:35 |
| Harry | LELEU | 00:09:41 |
| James | EDGAR | 00:09:43 |
| Nathan | GRAYEL | 00:09:43 |
| Baptiste | PASSEMARD | 00:09:47 |
| Takumi | HOJO | 00:09:52 |
| Raphael | MONTOYA | 00:09:56 |
| Joris | BASSLE | 00:09:59 |
| Tomas | ZIKMUND | 00:10:03 |
| Hugo | WINOCK | 00:10:06 |
Female classification
| | | |
| --- | --- | --- |
| ATHLETE FIRST | ATHLETE LAST | TOTAL TIME |
| Nina | EIM | 00:10:35 |
| Lisa | TERTSCH | 00:10:37 |
| Jolien | VERMEYLEN | 00:10:38 |
| Iona | MILLER | 00:10:43 |
| Christmas | BEHRENS | 00:10:48 |
| Ilaria | ZANE | 00:10:49 |
| Verena | STEINHAUSER | 00:10:49 |
| Rebecca | BETI | 00:10:50 |
| Paula | FROM THE DRUNK WELL | 00:10:52 |
| Margot | GARABEDIAN | 00:10:52 |
| Anna | Godoy Contreras | 00:10:53 |
| Valerie | Barthelemy | 00:10:59 |