Genis Grau runner-up in Europe Duathlon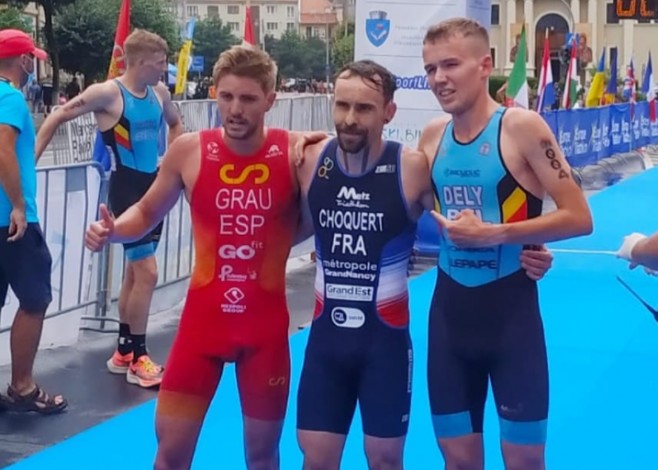 Today, Sunday, July 4, the Duathlon European Championship where Spanish selection has achieved 5 medals among all categories
In the elite category Genis Grau has achieved the runner-up in Europe, entering behind the French Benjamin Chokert, that has taken the victory and the European championship.
In that same test Fernando Zorrilla has been eighth and Emilio Martin tenth
In the elite female event Mary Pintanel has been fourth 4th and European Champion in sub23 while María Varo has been 5th. The European champion has been the French Audrey Merle
In the female U23 category, in addition to Marta's medal, Marina Muñoz He has taken bronze, in the men's event of that category Diego Mentrida It has been 6º
In the paratrialton tests, Spain has achieved 2 golds with the victory of Kini Carrasco in PTS3 and Rafa Solis in the PTS5 category.
Spanish Classification
| | | | | |
| --- | --- | --- | --- | --- |
| Post | Athlete | Country | Zone | Time |
| 2 | Genis GRAU | ESP | Elite Men | 0:51:36 |
| 8 | Fernando ZORRILLA MEDRANO | ESP | Elite Men | 0:52:46 |
| 10 | Emilio MARTIN | ESP | Elite Men | 0:52:56 |
| 4 | Maria VARO ZUBIRI | ESP | Elite Women | 0:58:14 |
| 12 | Sara GUERRERO MANSO | ESP | Elite Women | 1:02:01 |
| 6 | Diego MENTRIDA ZAMARRA | ESP | U23 Men | 0:54:30 |
| 1 | Marta PINTANEL RAYMUNDO | ESP | U23 Women | 0:58:00 |
| 3 | Marina MUÑOZ HERNANDO | ESP | U23 Women | 0:59:25 |
Elite male classification
| | | | | |
| --- | --- | --- | --- | --- |
| Post | Athlete | Country | Zone | Time |
| 1 | Benjamin CHOQUERT | FRA | Elite Men | 0:51:28 |
| 2 | Genis GRAU | ESP | Elite Men | 0:51:36 |
| 3 | Arnaud DELY | BEL | Elite Men | 0:51:39 |
| 4 | Yohan LE BERRE | FRA | Elite Men | 0:51:50 |
| 5 | Maxime BARGETTO | FRA | Elite Men | 0:51:57 |
| 6 | Jimmy KERSHAW | GBR | Elite Men | 0:52:02 |
| 7 | Angelo VANDECASTEELE | BEL | Elite Men | 0:52:25 |
| 8 | Fernando ZORRILLA MEDRANO | ESP | Elite Men | 0:52:46 |
| 9 | Toon MARIËN | BEL | Elite Men | 0:52:50 |
| 10 | Emilio MARTIN | ESP | Elite Men | 0:52:56 |
Elite female classification
| | | | | |
| --- | --- | --- | --- | --- |
| Post | Athlete | Country | Zone | Time |
| 1 | AUDREY MERLE | FRA | Elite Women | 0:56:47 |
| 2 | Marion Legrand | FRA | Elite Women | 0:57:54 |
| 3 | Ann SCHOOT UITERKAMP | NED | Elite Women | 0:57:55 |
| 4 | Maria VARO ZUBIRI | ESP | Elite Women | 0:58:14 |
| 5 | Diede Diederiks | NED | Elite Women | 0:58:16 |
| 6 | Maurine RICOUR | BEL | Elite Women | 0:58:31 |
| 7 | claudia kelsall | GBR | Elite Women | 0:59:30 |
| 8 | Sandrina ILLES | TUE | Elite Women | 0:59:45 |
| 9 | Lotte CLAES | BEL | Elite Women | 1:00:12 |
| 10 | Karin NIEUWENHUIJSEN | NED | Elite Women | 1:00:31 |