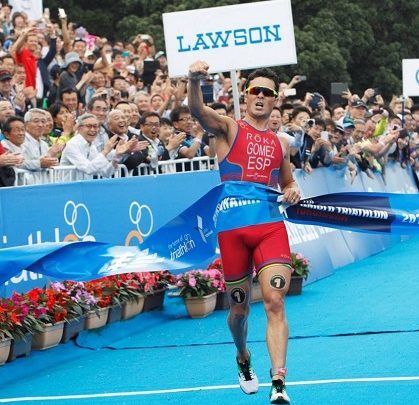 On Friday, the Island House Triathlon begins in the Bahamas. Race to which 20 come from the best triathletes in the world of all distances (10 men and 10 women).
Among the most prominent names we can mention Gwen Jorgensen, Nicola Spiring, Leandra Cave o Mirinda Carfrae between women and Javier Gómez Noya, Richard Murray, Tim Don o Luke McKenzie Between the men. We remind that this competition is attended by an exclusive invitation from the organization whose most important person is the billionaire Mark Holowesko.
Holowesko is 55 years old and has lived a half life linked to the world of cycling, race organizer and supporting young athletes. He represented his native country, Bahamas, in the Atlanta '96 Olympics in the sailing category. For the last 15 years, he has dedicated himself to financing and supporting cyclists from his country so that they can attend international competitions, mainly in the USA. At a sporting level, during the last decade Holowesko has proclaimed himself champion of his country three times in individual time trial and this year he has been 4th ... all in elite category with his 55 years.
One of the dreams of Mark Holowesko will begin tomorrow with the first stage of the Island House Triathlon, in the Island of Providence (the other two stages will be in the private island of Highbourne Clay) the Prologue is disputed, in the modality of individual time trial, the triathletes will face 300m of swimming 7km of cycling and 2 of running race. The result will be a mystery, since most ITU triathletes are now starting their preseason and some of the LD triathletes competed in Kona recently.
The first test will be the prologue with 500 meters of swimming, 8 km of cycling and 2 km of race. The next day will be the turn of the Olympic Enduro (with drafting) where they will compete in 500 meters of swimming, 13 of cycling to finish with 3,3 of race on foot. And to finish the competition all triathletes will participate in a distance test sprint without drafting
As a curiosity we want to emphasize that this format of "Triathlon by Stages" brings good memories to five-time champion Gómez Noya since just 10 years ago he swept in a competition of similar format, the Iron Tour de France, where he won the general and took the 6 stages in which the test was recorded.
This is the starting list of the test
Male List
Barrett Brandon (USA)
Tim Don (GBR)
Cam Dye (USA)
Javier Gomez (ESP)
Leon Griffin (AUS)
Ben Hoffman (USA)
Luke McKenzie (AUS)
Richard Murray (RSA)
Tim O'Donnell (USA)
Trevor Wurtele (CAN)
Female list
Lauren Brandon (USA)
Mirinda Carfrae (AUS)
Leanda Cave (GBR)
Flora Duffy (BMU)
Gwen Jorgensen (USA)
Rachel Joyce (GBR)
Alicia Kaye (CAN)
Rachel Klamer (NED)
Lisa Norden (SWE)
Heather Wurtele (CAN)
More information: http://www.islandhousetriathlon.com/