Gómez Noya with an eye on Sydney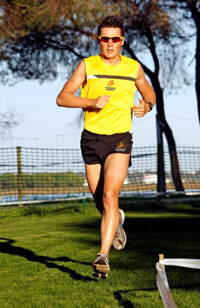 The world champion rushes his last days in Punta Umbría, where he has been able to train for three weeks in ideal conditions to prepare for his first triathlon of the year in Australia.

He has been able to fulfill the planning planned by Omar González, also present in this three weeks in Andalusia, as well as other Spanish triathletes who have served as a stimulus to work hard: Pedro Miguel Serrano, a great swimmer who was also with Javi in ​​Fuerteventura ; and the young Galician Óscar Vicente, one of the few Spanish triathletes who can stand up to Javi by bike and on foot.
In swimming and cycling, he has already done high-intensity sessions, while on foot he has accumulated kilometers with some change of pace, but still without doing full series, something he leaves for later. "This area is wonderful for training; There are several swimming pools, roads with little traffic and for running I am not exaggerating when I say that it is an unbeatable place: you have the grass circuit where the Cross Country World Cup will be held to run very fast without the hardness of asphalt and paths between pine trees to do background sessions. And all this in short sleeves, a luxury being in winter".
Before flying to Australia on March 20, Javi will spend a few days at the CAR in Madrid and others at home. And he still has to receive an award for his successful 2010, like the one from the Spanish Sports Press Association that he will receive on Monday the 7th in Bilbao.
Source: www.triatlon.org