Gómez Noya, recovered, defends the world leadership in Hamburg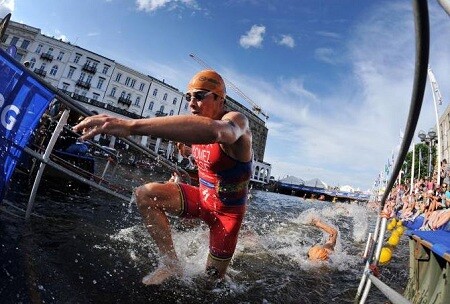 Noya has competed in Hamburg on many occasions, achieving victory in 2006 and 2010.
After the succession of misfortunes that prevented him from finishing in the European Championship Saturday 11 in Geneva (crash at the beginning of the cycling sector, which caused damage to the front wheel as a corete on the bottom of the foot) Gómez Noya is recovered both physically and morally for the appointment of the World Series, to be held in Hamburg on Saturday 18 in Hamburg at the 17.45h.
Together with his coach Carlos David Prieto He remained in Geneva until Wednesday afternoon and was able to train on foot since Monday despite the cut injury. Little by little he has been improving and it is assumed that Saturday will not prevent him from giving his all in such an intense triathlon, since it is about the Sprint distance: 750m swimming, 20km cycling and 5 on foot.
It is true that the Brownlee brothers are not there (the youngest Jonathan is seriously injured with a stress fracture and Major Alistair was pre-registered but has not been presented) but the rest of the Top10 regulars are very good specialists in the short distance and good I am sure that a very equal triathlon is lived.
This is the 7th appointment out of 10 on the 2015 calendar and being in the center of the city the presence of the public is spectacular. It is the only venue that since the creation of the World Series in 2009 has been every year (from 2009 to 2011 in Olympic distance, since 2012 in Sprint.
It was also the 2007 World Championship when it was still disputed to a single date. Javier has competed there on many occasions, achieving victory in 2006 and 2010. The swimming course is one lap in a canal; cycling 6 laps with 90º curves; and on foot there are 2 flat laps.
Start list: http://wts.triathlon.org/site/start_list/2015_itu_world_triathlon_hamburg/270966
Tours: http://hamburg.triathlon.org/en/elite/course/
Classification World Series: http://wts.triathlon.org/results/rankings
Photo: ITU