Gómez Noya among those registered for the World Cup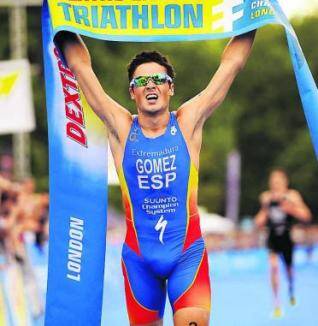 The competition, which broke the registration record with 1.100, will be held on the 24th and 25th of this month
Less than two weeks before the Duathlon World Championship is held in Gijón, on the 24th and 25th, the competition already has more than 1.100 registered, which is higher than last year's figure in Edinburgh. Through the streets of Gijón there will be the best distance specialists and also others who usually compete in triathlon competitions, such as the Spanish Javier Gómez Noya, current number three in the world ranking and winner of the Triathlon World Championship in 2008 and 2010, fourth in the Olympic Games in Beijing, European champion in 2007 and 2009 or winner, among other races, of twelve World Cup events.
Gómez Noya is perhaps the athlete best known by fans, but others on the entry list include Víctor Manuel del Corral, also a Spaniard, who ended up as leader of the duathlon world ranking, the Belgian Rob, Woestenborghs, second in the World from last year in the elite category, the Russian Sergey Yakolev also former number 1 in the world ranking or the French Damien Derobert. Her compatriot Sandra Levenez, second in Edinburgh last year, is one of the favorites for the final victory.
In total there are 30 countries that will send representatives to this World Championship, including athletes from South Africa, New Zealand, Australia, Malaysia, Japan or Bermuda.
The World Cup will be held on the same circuit where the Spanish Championship took place last year and which runs near Las Mestas, where the start and finish will take place, close enough to the city center to facilitate the presence of fans, but without affecting road traffic, one of the drawbacks of this type of competition.
Source: lne.es