Gómez Noya: «When they crush you, there is no more to say»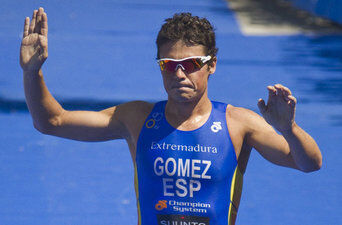 The Galician Javier Gómez Noya, third in the World Cup event in Madrid, behind the brothers Alistair and Jonathan Brownlee, said that he gave "the best he had", but that "they were superior." «When they beat you, there is nothing more to say. What people pay attention to the most is the race on foot. But the pace at which we cycled was incredible. And that they are capable of running at the level they ran is something for which you can only congratulate them, "explained Gómez Noya.
"The podium is not bad when you measure yourself against someone like that, either. When you give everything and there are two who have been stronger than you, the only thing you can do is congratulate them and continue working, "he said. "I didn't have a great day running, but it's true that we work a lot on the bike. The ones who pulled the most of the group, by far, were the Brownlees and me. We managed to open a gap and cut many important rivals, "said the double world champion.
"When you work so hard, you make such a great effort and there are two guys who run faster than you and the rest of you can't blame yourself for anything. Today I gave my best, but the Brownlees were much superior, "explained Gómez Noya, whose main objective this year is the European Championship that will be held at the end of the month in Pontevedra, where he resides.
I hope to be a little better in three weeks. They will be there again and for sure they will be very strong again, but each race is a different race. And being aware that when they are at full capacity it is very difficult to beat them, it is also true that I have managed to do it at some point, "he said.
«I keep working hard and I just want to do my best. If then there are two who are faster than you, in the end you cannot do much, "said the Ferrol, born in Basel (Switzerland) 28 years ago, who did admit that he and the British brothers are one step ahead of the rest .
"Yes. Taking into account how we work on the bike, with people from our group who were riding and still weren't able to run at our level, that is something that says a lot about the level we have. The two of them, first; and then me, "he said.
«I run on the attack, I don't like to run defensively. And if there is a cut ahead, we remove many rivals from above. There were very good runners who were cut off. And if they (the Brownlees) show their faces, I show their faces, "he said.
«Another thing is that they did not shoot and I did. So you change the strategy. But when they work the same as you, you have to shoot. (German Olympic champion Jan) Frodeno, for example, didn't shoot. But not because it was hidden. He didn't shoot because he couldn't. He was later seen running that he couldn't take it anymore, "concluded Gómez Noya.
Fuente: La Voz de Galicia