Gomez Noya arrives "at the best moment of his career," says his coach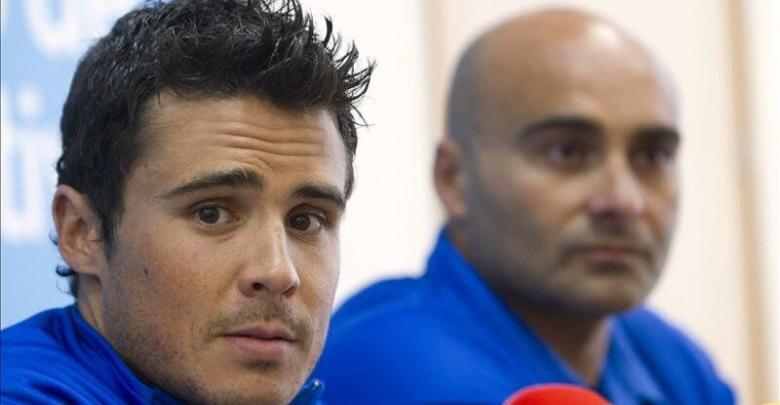 Omar González is the one who best knows the state of form of Javier Gómez Noya, whom he has been preparing since 2008, whom he sees every day in each work session, and assures, in an interview with EFE, that he arrives at the best moment of his career to London appointment.
There he will face his second Olympic Games as one of the main Spanish options to get a medal and where he will not have to carry the weight of favorite with which he had faced those of Beijing.
The Asturian coach has been close to Gómez Noya since "he made his first triathlon" in 1998, when he competed against him; two years later he took over the lower categories of the Spanish Federation, which included the Galician triathlete; in 2004 he arrived at the technical center of Galicia, where he trained the double world champion and triple of Europe; took the technical direction of the Fluvial de Lugo, where Gómez Noya competed; They shared an apartment and, since 2008, after the Beijing Games, he trains him.
Question: The moment of truth is approaching, I imagine you have already started the countdown to London, right?
Answer: Yes. Both I and Javi are already looking forward to being there, that it is the day of the competition and expressing everything that we have inside, what we have been accumulating these months. We arrived at an optimal moment of form, at the best moment in Javi's sports history and we look forward to seeing if we can capture it on the 7th at 12:30 Spanish time.
Q: Is the best moment in Javi's sports history enough to beat the big favorites, the Brownlee brothers (Great Britain)?
A: I don't know if it will be enough, but I am quite clear that whoever wants to beat Javi is going to have to do a very, very, very good race. Javi is in a great state of maturity both physically and mentally and what we proposed on paper at the beginning of the season has gone well, the last training sessions have been the best in his life, which gives us a lot of confidence and the peace of mind of saying that we have done what we had to do. If there is someone better than us now, we will congratulate you.
Q: Alistair and his brother are the favorites?
A: Yes, it is clear. They run at home, they know the circuit, they have a team that works for them, they have been the dominators of the last races ... But we have been able to beat them at least once a year, although the highest percentage of victories is theirs and they are the great favorites. If he is one hundred percent, Javi knows he is capable of beating them. If we have beaten them in at least one race every year and this year we have not yet done so, what better than to save it for the Games. We have made the pool for that. Now, let's see if we hit that plenary on the fifteenth.
Q: How is the circuit going for Javi?
A: It is not the best for its characteristics because it is very flat, Javi is a great climber, but we met him three years ago and we have had plenty of time to adapt to the conditions of the circuit. It will not be an apology.
Q: Has the workload been smoothed out?
A: Yes. We have done a winter phase with an interesting volume, in each race Javi has found himself better, each competition has been a good training that has made him adapt better, after each one of them Javi has jumped quality, the last in Hamburg. Now we hope to get one hundred percent or a little more in London.
Q: How do you see him emotionally?
A: Javi always surprises me in that aspect because of the tranquility, the maturity. As long as there is a problem, he does not lose his nerve and when things are going very well, he does not get too excited. It always maintains a stable state, which is what allows it to continue day by day. I see it very calmly, as if I were facing any other World Cup test. When we are in London and we see the magnitude of everything, nerves will begin to surface, but for now they have not.
Q: Do you think you have less responsibility now than in Beijing?
A: We put the responsibility on ourselves, the level of demand. We know that now there are more means behind, there is the medal count, but it does not influence us. We put the pressure on ourselves. Javi has more experience, he already knows what some Games are. He arrived in 2008 being his first Games and everyone hung up on him and it's not that easy. Right now, he has the experience of a few Games, he is twice world champion, he brought good and bad news and he has experience to carry everything better.
Q: Have you made any promises if you win?
A: Yes, to go on vacation. That is the promise whether we win or not. Our idea is to finish the Games and continue playing the World Cup. Javi would like to make a podium in the world championship for the sixth consecutive year, so until October we would not have much rest, but after that date, a good holiday and gather strength for another cycle.
Q: Where do you think the key will be, in swimming, cycling or running?
A: It is clear that there will be several critical moments. We know that swimming by being one lap will be very hard, we hope to be in the first group and have the race controlled. It will be necessary to be very attentive on the bike so that there is no escape from the favorites and he will decide, surely, running in ninety percent of the possibilities. You have to be vigilant, not make mistakes in the transitions, be in the first places. We already had the experience last year, when Alistair ran away on a bike and it was impossible to catch him running.
EFE