Gómez Noya will participate in the Galician Championship of five kilometers this weekend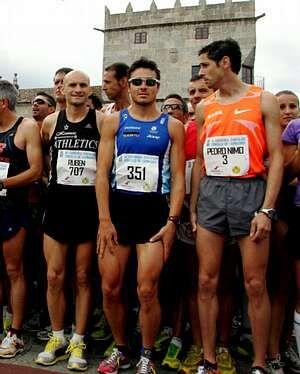 Javier Gómez Noya will refine his set-up for the Olympic Games in Vilagarcía. The triathlete has registered to take part in the Galician Championship of five kilometers, which will be held this Sunday in the town of Arousa and is the great favorite to win. The man from Ferrol already prevailed a couple of years ago in A Coruña and then he did a time of 14 min 1 s. It is highly probable that given the characteristics of the circuit he will be able to go below fourteen minutes in this weekend's appointment. In the women's event, the main candidates for victory seem to be Yolanda Gutiérrez and Soledad Castro.
Level circuit
The competition was presented yesterday at the City Council of Vilagarcía in a ceremony attended by the technical director of the Galician federation, María Dolores Suárez, the provincial deputy Begoña Estévez and the mayor of Vilagarcía Tomás Fole. Suárez highlighted the benefits of a practically flat circuit and that it has been approved by the Spanish Federation, so the marks achieved will be valid. The exit will be located on Avenida de Mariña. The athletes will go around the Miguel Hernández park to go to the Pablo Picasso roundabout and return. In total, 2,5 kilometers that they will have to cover a couple of times.
There are close to two hundred athletes, with sixteen categories in contention, who have signed up for the competition, which will have two classifications, the Galician Championship and the popular athletes. The start of the test will be joint and will take place at 11.30:XNUMX.
Source: lavozdegalicia.es