Gómez Noya: «Alister Brownlee is the man to beat»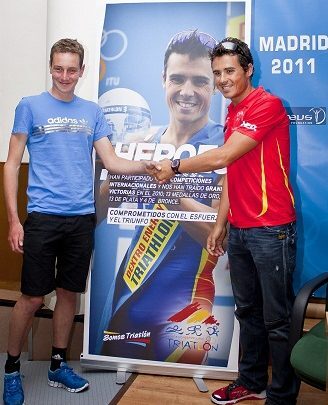 The Spanish triathlete Javier Gómez Noya has referred to the rivals that he will meet in the Madrid Triathlon, the third round of the Dextro Energy-Triathlon World Championship, and has made it clear that the British Alister Brownlee, his great rival in the fight for the World Cup, "is the man to beat" in the Madrid event.
«For me the strongest trialeta in the world right now is Alister Brownlee, he is a reference and I think he is the man to beat. If you have a good race it will be difficult because I have already suffered it on many occasions although I am also aware that you can win because I have also done it. Then there is a bunch of about ten or twelve with options to win, there are very good people who will make things very difficult, "said the Galician in statements to Europa Press.
Likewise, Gómez Noya wanted to show that his objective in this contest is to "try to win" and "defend" his leadership in the World Cup. «This is the second test after winning in Sydney, so I face this test with enthusiasm, especially being the leader. I have to defend that leadership and we are going to go out and try to win. There are a lot of rivals, very good people, but I am confident in my possibilities and I have to try to be as far forward as possible »he explained.
Regarding his fourth place last year in this same race, the Ferrol underlined that he will try to "improve" that position, although on the other hand he made it clear that "absolutely nothing" is reproached for his performance last season.
"Fourth is a good position in general, obviously I can't win every race. Last year I had a difficult winter with injuries, I arrived here and finished fourth, so I don't blame myself for anything. I do blame myself when I make tactical mistakes in races and I can't win, but last year I was where I had to be and three riders were better than me. I could not do much more, I hope this year to improve that fourth place because I have trained for it, "said the Spaniard.
On the route in Madrid, the El Ferrol triathlete assured that the circuit "invites attack." «I like the route in general because if you have a good day you can get a lot out of it since others are going to have a hard time. But if you have a bad day you can also sink, "he said.
"You have to try to dose especially on the bike and you have to be attentive to all movements because the circuit invites the attack on the slope that has to be passed eight times, so I suppose there will be war from the beginning" he added.
Looking ahead to the next London 2012 Olympic Games, the Spanish triathlete was confident of being able to "improve" his fourth place in Beijing 2008. "I want to improve it. Until now I have only had one opportunity in my life to compete in the Olympics and it was not my best day, far from it. I was fighting for the medals until the end, but I didn't get them and hopefully I can overcome that position in London and be in the medals », he declared.
Finally, Gómez Noya valued the possible role of another Spanish triathlete, also Galician Iván Raña. «I think he is improving after his year in cycling and he is at a pretty good level, he is a man with incredible experience with a track record that says it all. He knows what it is like to win an important race so I believe and I hope that he will be well here in Madrid and that he will improve as the races pass », concluded the Spanish champion.
Source: europapress.es