Gómez Noya points to the European Championship in Pontevedra as a simulation of the Olympic Games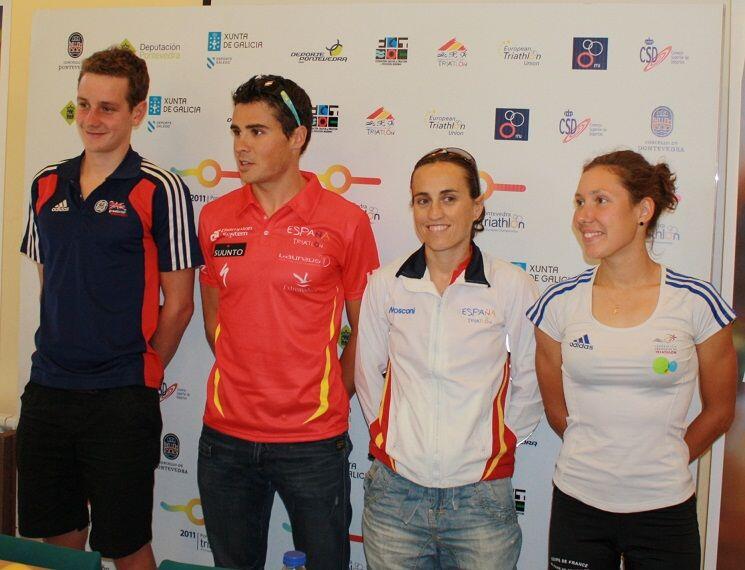 The European Triathlon Championship already lives in the hours before the competition. This afternoon the Pazo da Cultura de Pontevedra hosted the press conference of the protagonists of the elite events in both male and female categories. The locals Javier Gómez Noya and Ainhoa ​​Murúa, along with the British Alistair Brownlee and the French Emmie Charayron, commented on their expectations about Saturday's appointment.
Gómez Noya will compete again in the city where he resides, previously as the European Cup, and during the week he already received the support of his neighbors. "Come on, you have to win" is the most repeated phrase. To do so, the Ferrol will have to overcome the current owner of the title, Alistair Brownlee, who confessed to being "happy to be in Pontevedra for the first time." For the Englishman "it was a surprise to have such a good race last week in Austria. I'm going to try to win here too ".
The two are regular rivals but teammates in the French League. Brownlee explained that there were different tactics, while Gómez Noya pointed out that "it is only changing the chip."
To get his third continental title, the Galician will not only have Alistair Brownlee in front of him, although Gómez Noya believes that "he is the maximum favorite". "Jonathan -the youngest of the Brownlee brothers- is at a very high level, and Joao Silva, the French team with Hauss… there will be no shortage of rivals ". In any case, if he is given the choice between losing at home on Saturday or winning at Brownlee's at the London Games, the Ferrol prefers the Olympic medal but "I don't think so. I try to win every race ".
On the female side, Ainhoa ​​Murúa pointed out that "from the moment you get on the pontoon, you have the chance to be on the podium and I think I do." For the Guipuzcoan the favorites are the French Emmie Charayron and Carole Peon, as well as the Danish Frederiksen. The junior world champion and junior European and U23 champion, Emmie Charayron, does not think about being a favorite although she hopes "to be on the podium because I am happy with the result in Madrid" -the Frenchwoman was bronze in the World Series event- .
They will be the first to jump into the water of the Lérez River. The women's competition begins on Saturday at 12.30:19.00. Meanwhile, the men's title will be decided from XNUMX:XNUMX p.m.
Source: FETRI