Gómez Noya follows a new diet plan to avoid flatulence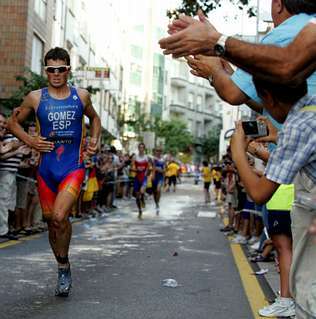 One point, an intestinal discomfort can ruin years of work in triathlon, as in other sports. Javier Gómez Noya knows this, who has suffered flatus at key moments in his career, on some days of extreme heat. And he fights it these days as if he were the worst of his rivals, with a more strict eating plan than ever. Just arrived in London to compete on Sunday in the third-to-last round of the World Championship, he refines all the details, further polishes some habits that he already rigorously monitored. Because the problem he noticed in Pontevedra stopped him again in Hamburg a few weeks ago. «There I again felt discomfort of this type. I want to compete again without problems, and win or congratulate whoever surpasses me after giving everything ", explains the Ferrol, leader of the world ranking and whose form heralds good news for the next races.
After various consultations, Gómez Noya has been using new habits for a few weeks, mainly consisting of taking extreme precautions that he already took before. For example, avoid orange juice in the morning, eat four hours before the start of a competition - instead of three - and avoid flatulent vegetables, sauces, heavy meals and dairy, as explained by the triathlete and his work team. It also affects aspects such as hydration even more. You cannot drink during meals, but you can drink before and after in many short feeds.
Possible intolerance
«Flatus sometimes happens to me and nobody really knows why. It happens to me in the heat, that's true, but not every time I compete in those conditions. I have always taken good care of my diet. Maybe I should undergo studies to see if I now suffer from an intolerance to some food, which perhaps I did not have before or was not detected, "explains the double world champion, who suffered flatus at the Beijing Olympics and finished fourth.
"It is difficult to know how the body reacts. This is not a disease either, "adds Ferrol, who does not take drugs to combat gas. «In competition you push your body to the maximum, and other people react by vomiting or with other disorders. Perhaps the position on the bike encourages them to park it and start running the final ten thousand on foot, "adds Gómez Noya.
Better without extreme heat
In the European Championship in Pontevedra and in the World Championship event in Hamburg, he was reduced by flatus. That is why he is pursuing a remedy. Last Sunday, in an international appointment in Banyoles, he won without gastric discomfort. A good sign. The weather forecast for Sunday in London gives him hope. «Highs of 18 or 19 degrees are announced, with a possibility of rain of 30%. Better this way, although the water would make the section more slippery on the bike ", adds the Ferrol, who already suffered a fall this year in Sydney before starring in a spectacular comeback and winning the race.
His circle also points to a diarrheal episode suffered in May as a possible trigger for the discomfort of recent months, in which he felt more bloated than usual during training sessions and after meals.
Source: lavozdegalicia.es