Gómez Noya and Ainhoa ​​Murua defend the title won in Vigo last year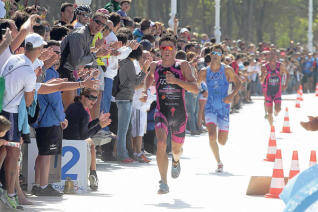 Pontevedra will host this weekend the Spanish Triathlon Championships, in which it is worth noting the presence of Javier Gómez Noya from Ferrol, who has just won the silver medal at the London Olympics and who will defend the national title achieved in Vigo on last year.
More than 1.100 athletes will participate in the different categories of the championship, from elite to age groups, through cadet, junior and sub-23. The Galician representatives will try to at least match the excellent results obtained in Vigo, where they won a total of twelve individual medals and seven by clubs. In addition to Gómez Noya, we must highlight Jesús Gomar ?runner-up last year? and to the order of Iván Raña, recovered from the injury that prevented him from qualifying for the London Games.
In the women's category, the great favorite will be the Basque Ainhoa ​​Murúa, who is completing an exceptional season, in which it is worth noting her seventh place in London. In her case, in addition, she will want to make up for the fourth place obtained in the European Championship of Pontevedra in 2011
The competition starts tomorrow with the cadets and the elite tests are held on Sunday at 10:15 (female category) and 12:45 (male).
atlantico.net