Triathlon News
Today the expected duel between Noya and the Brownlee in London is celebrated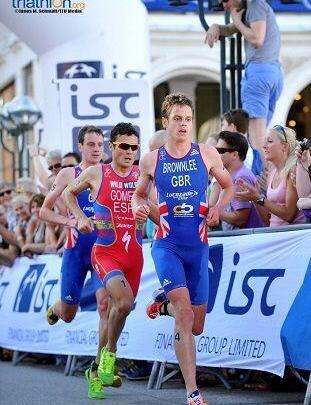 To be proclaimed champion Noya, you only have to win and Alistair finish in third position
Today at the 14: 30 Spanish time will be the expected Grand Final of the ITU World Series in London, where the world title will be decided among the 3 favorites, Alistair Brownlee, Javier Gómez Noya y Jonathan Bronwlee.
Currently Alistair advantage in 120 points to Javier, so Noya only it is worth to him to win in London and to hope that the Briton finishes in 3º position.
The story is in favor of Alistair since it was he who won the triathlon of the 2012 Olympic Games, and the 2009 and 2011 World Series events in the same stage where they will fight today in London.
Alistair if he gets this victory will be his third world championshipl what would place him ahead of Javier Gomez Noya. Currently both hold two ITU World Championship titles.
In return Jonathan Brownlee, has already shown this year that he is capable of winning his brother, as he beat Alistair in the final stages of the series Hamburg.
But do not forget about Mario Mola he will try to be at the top, everything will depend if he performs a good swim segment and manages to be among the first ones, since Mario is sure to make a great segmente of bike and run on foot. It will also be necessary to take into account Joao Silva, which boasts 3º bronzes this season.
Other names to keep in mind are Richard Murray , Sven Riederer y Ryan Sissons among others.
Francesc Godoy will complete the rest of the Spanish army in elite category.
The women's event will have the 14: 30 (Spanish time) on Sunday 15 September and can be followed live from www.triathlon.org/tv or through our social media.
Photo: ITU