Gregorio Cáceres and Eva Ledesma win the Elche Arenales Triathlon 113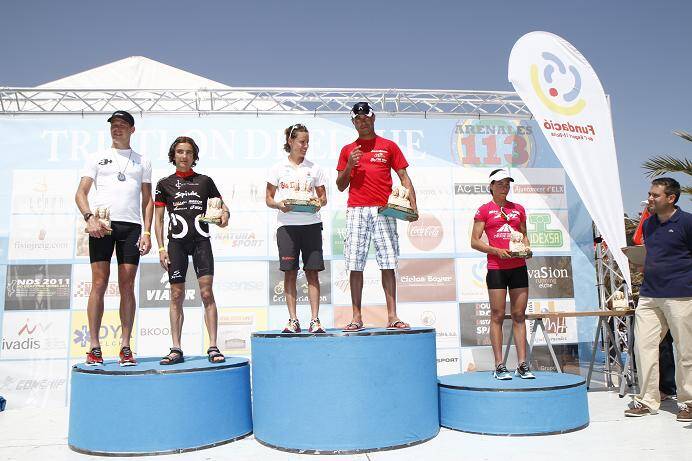 Gregorio Cáceres and Eva Ledesma were proclaimed champions of the seventh edition of the Elche Arenales 113 Triathlon, which was held yesterday with the participation of more than a thousand triathletes. This is the most massive middle distance competition that takes place in the national territory and that stands out for its excellent organization.
Gregorio Cáceres, from the Triyaiza Triathlon CD, was the best in the Elche event. The Canarian athlete used four hours, two minutes and 15 seconds to win this competition and surprise the great favorites to win the title.
Cáceres took advantage of the physical decline in the last kilometers of the race on foot of Domenico Pasuello, winner in 2010, to leave him out of the fight for the scepter. The canary then started a fight with Nicholas Ward. Finally, the insular triathlete held out better and ended up entering the finish line with an advantage of almost a minute over Ward.
On the other hand, in the female category, the independent Eva Ledesma once again imposed her law on the Elche beach. The Catalan athlete, who already won in last year's edition, once again fulfilled the forecasts and won the title. Ana Casares, from AC Triathlon, and Saleta Castro, from Cidade de Lugo Fluvial, finished in second and third position, respectively.
Ledesma cemented his triumph in the cycling segment, in which he scored an extraordinary partial. The fight between Ledesma and Castro on the bicycle route went to the Catalan side and Castro accused the effort made to lose time in the race on foot and finish in last place on the final podium.
Meanwhile, in the club classification, Navarrese Lagunak Saltoki claimed victory in the men's category. Álvaro Velázquez, Íñigo Pérez and Iker Rozas starred in the triumph of the Navarrese club. The CT Guadalajara was second and the Valencian Komando Fisiojreig.com, third. In girls, the Guadalajara Triathlon CD surpassed Triesport Roquette.