Gustav Iden wins the Canadian Open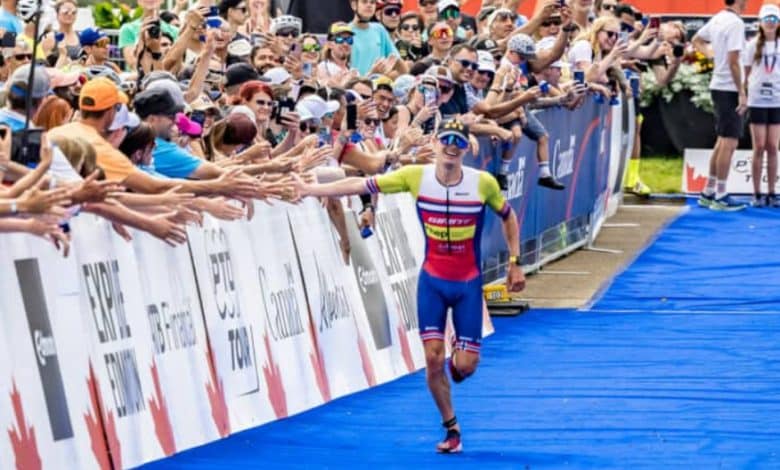 Norwegian triathlete Gustav Iden has achieved victory in the first edition of the Canadian Open where a million dollars in prizes were distributed.
The test that was disputed under the 100 km format(2-80-18) began at 20:30 p.m. with the swim segment.
First out of the water was Henri Schoeman leading a group with Aaron Royle, Alistair Brownlee, Sam Laidow, Ben Kanute and Kyle Smith.
Behind at 1:16 Bummenfelt left, at 1:23 Iden, . Dapena, who was competing in the test, left behind with 2:06 behind the leader of the test.
In the first kilometers of the cycling segment, a duet was formed in the lead with Brownlee and Laidlow leaving ahead.
At km 40, both triathletes were 47 seconds ahead of Smith and 1:32 ahead of Blummenfelt and Iden, who were riding together.
In T2 the duo of Brownlee and Laidlow led iden at 1:07 who led a group with Blummenfet and Funk.
In the foot race, Alistair sank in the first kilometers losing all options.
Laidlow took the lead until at kilometer 5 Iden caught up with him leaving alone.
In the passage through PK 10 of the race, he was ahead by 1:16 over Blummenfelt who was beginning to cut the difference and by 2 minutes over Aaron Royle who was third.
Gustav Iden He knew how to maintain his advantage until the end, achieving victory in the test with a time of 3:06:59.
second was Kristian blummenfet (3: 07: 37) and third Aaron Royle (3: 10: 18)
The Spanish Pablo Dapena He finished in 16th position and the British Alistair Brownlee in 24th.
Men's 10 Top
| | | |
| --- | --- | --- |
| Post | Athlete | Time |
| 1 | Gustav Iden | 3:10:48 |
| 2 | KRISTIAN BLUMMENFELT | 3:11:15 |
| 3 | AARON ROYLE | 3:14:25 |
| 4 | SAM LAIDLOW | 3:14:47 |
| 5 | FREDERIC FUNK | 3:14:55 |
| 6 | PIETER HEEMERYCK | 3:15:23 |
| 7 | LIONEL SANDERS | 3:15:49 |
| 8 | MAX NEUMANN | 3:16:39 |
| 9 | KYLE SMITH | 3:17:02 |
| 10 | MIKI MOERCK TAAGHOLT | 3:17:13 |
Check the complete results