Triathlon News
Gustavo Rodríguez and Helene Alberdi Spanish Champions of Duathlon MD
The Galician has achieved a comfortable victory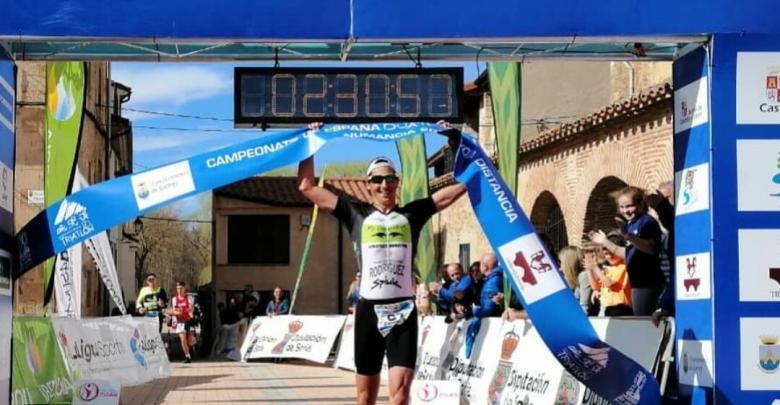 Today a new edition of the Spanish Championship in the Duathlon MD modality has been played in Numancia (Soria).
The Galician triathlete Gustavo Rodríguez, arrived last Friday at Soria without having assured his presence at the starting line of this Dúatlon Spanish Championship of Long Distance.
The non-participation in last year's edition due to injury and his club not being among the first places in the national ranking meant that the Galician did not have a number and forced him to wait for some absence in the control of signatures on Saturday. In extremis the Galician achieved the only number that was free and thus be able to participate in the test today.
The best national triathletes gathered at the starting line, in addition to Gustavo Rodríguez, last year's champion, Raúl García, international triathletes such as Cesc Godoy, Ander Okamika, Ibai Alba, Daniel Bayón or Pello Osoro were present.
The test that started at 11 in the morning did so with a 9 km race where the first to finish the segment was Cesc Godoy followed by Adrián Latestere.
In the 60 km cycling segment Gustavo Rodríguez reached the lead to reach T2 alone.
In the last segment of the test (10 km of foot race 9 Gustavo Rodríguez He maintained the difference reaching the finish line alone and achieving the Spanish Championship with a time of 2:30:58 followed by Cesc Godoy (2: 32: 36) and for Pello Osoro (2: 33: 41) occupying the third final position.
In this way, Gustavo Rodríguez begins the 2019 season, after months of preparation, a season whose objective is clear, to qualify for the Kona Ironman World Cup and direct his presence at the Tokyo 2020 Paralympic Games as a guide for paratriathlete Héctor Catalá .
The next great appointment for Rodríguez will already be the Ironman of South Africa on April 7, one of the most important appointments of the year, where he will seek that classification for Kona 2019
In the female category the victory has been for Helene Alberdi with a time of 2: 56: 39 followed by Merce Tusell (2: 57: 48) and for Sonia Sánchez (2:58:54) in third position.
Helene Alberdi, Sonia Juliá and Natalia Gómez reached T1 in the first positions, closely followed by Merce Tusell, Ana Rovira, Alba Reguillo, Marina Burgaya and Aitziber Urkiola. The cycling segment, with the best partials by Anna Rovira, winner of the Iberdrola Trophy, and Merce Tussel, allowed them to get closer to Alberdi and the rest of the candidates for the elite female podium of the test, which would be decided in the last race to foot.
The champion secured the title with the best time in the third segment, with Sonia Juliá and Merce Tusell signing good records to be second and third classified.
Photo: Fetri