Gustavo Rodríguez and Laura Gómez win the Half Triathlon Pamplona Iruña
Gustavo Rodríguez holds the record for "txapelas" with 4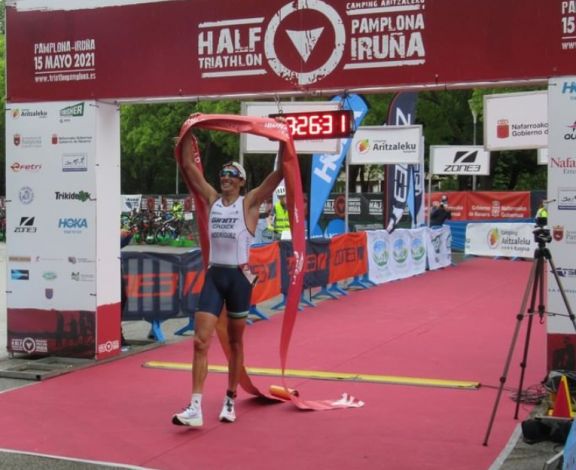 Today a new edition of the Half Triathlon Pamplona Iruña was held in Pamplona where many high-level professionals were present.
Eneko Llanos, Gustavo Rodríguez, Cesc Godoy, Aida Valiño. Laura Gómez and Sara Loehr have been some of them.
The test that began at 13:30 p.m. has been contested on a format of 1,9 kilometers of swimming in the Alloz reservoir, 74 kilometers of cycling and a final race of 17 kilometers on foot.
Male test
The victory in the men's category was the Gustavo Rodríguez with a time of 3:27:23 followed by Eneko Llanos and by Cesc Godoy in third position
The swimming was dominated by Cesc Godoy who achieved an income of just over 3 minutes over Eneko Llanos and Gustavo Rodríguez who came out of the water in 5th place.
Gustavo set the best time in the cycling segment, getting off at par with Eneko and after a few first kilometers, the Galician was able to achieve a few meters of difference that allowed him to reach the finish line with a time of 3 hours 27 minutes.
Gustavo achieves his fourth txapela, becoming the great dominator of the test in its six disputed editions.
But this time it was very special for the Galician, who crossed the finish line in tears after "hard months that have generated many doubts, which have been cleared when crossing the finish line " pointing to the "Hard effort both mine, and the people around me, to overcome this situation".
Female test
In the female category the winner has been Laura Gomez with a time of 4:00:57 second Aida Valiño y Lucia Blanco in third position
Laura Gómez, from Saltoki Trikideak, barely gave her rivals options although during the swimming and cycling segment Aida Valiño, from Tri-Penta Terras de Lugo, remained very close in the fight.
Almost together they arrived, but in the race on foot the final winner would press to leave alone and prevail with a little more than two minutes of advantage. In third position of the female elite was Lucía Blanco, from Saltoki Trikideak