Hayden Wilde wins the Hamburg World Series
It is placed as leader of the circuit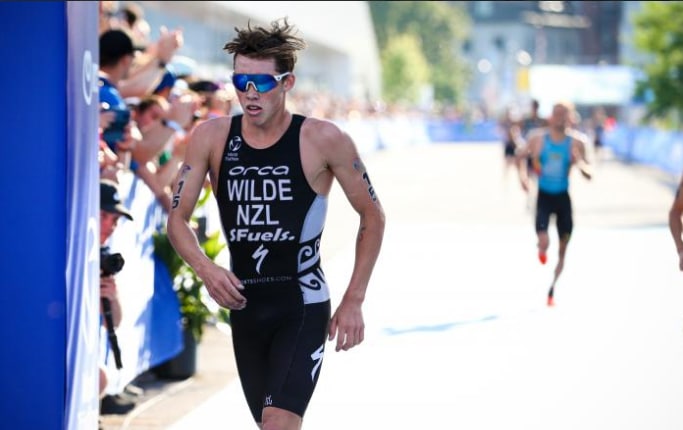 Today, in the German city of Hamburg, the sixth round of the Triathlon World Series 2022
The test that has been disputed over sprint distance had the presence of the triple world champion Mario Mola, that returned to the circuit after the break of the Tokyo Games.
The triarmada was composed in addition to Mola, by Antonio Serrat, Roberto Sanchez and Alberto Gonzalez
The first to come out of the water was Vicent Luis followed by Valentin Morlec and Márk Dévay leading a very tight group.
Alberto González at 24 Mario started at 29 seconds, Roberto Sánchez at 42 and Antonio Serrat at 43.
In the cycling segment in the first laps a very large group was formed in the lead with only González in it, but with Mola, Sanchez in the chasing group with 50 seconds and Serrat more than 1:30 behind the head of the race.
A group of 2 units arrived at T31 with Vasco Villaca at the head. The group of Sánchez and Mola arrived at 1 minute and Serrat at 1:37.
In the first meters a group was formed in the lead with Wilde, Hauser, Bergere and Geens.
In the final part we saw an exciting fight for victory so that he finally won Hayden Wilde with a time of 53: 10 followed by Matthew Hauser (53: 13) and Jawad abdelmoula (53: 26) occupying the third position.
As for the Spanish Alberto González was the best in the 26th position, Mario Mola finished 36thRobert Sanchez 41º and Antonio Serrat 48º.
Wilde circuit leader
With this victory Wilde is placed as leader of the circuit followed by Leo Bergere and Jelle Geens
See the lens assembly tutorial 2022 World Series ranking
Men's 10 Top
| | | | |
| --- | --- | --- | --- |
| Pos | Athlete | Country | Time / Difference |
| 1 | Hayden Wilde #2 | NZL | 0:53:10 |
| 2 | Matthew Hauser #18 | AUS | 00:53:13 +00:00:03 |
| 3 | Jawad Abdel Moula #30 | TUE | 00:53:26 +00:00:17 |
| 4 | Leo Bergere #1 | FRA | 00:53:29 +00:00:19 |
| 5 | Jelle Geens # 4 | BEL | 00:53:36 +00:00:26 |
| 6 | Tom Richard #26 | FRA | 00:53:37 +00:00:27 |
| 7 | Vasco Vilaca #6 | BY | 00:53:38 +00:00:28 |
| 8 | Joao Silva #17 | BY | 00:53:40 +00:00:31 |
| 9 | Vetle Bergsvik Thorn #21 | NOR | 00:53:42 +00:00:32 |
| 10 | Lasse Luhrs #12 | GER | 00:53:43 +00:00:33 |