Helena Herrero Champion in the Ring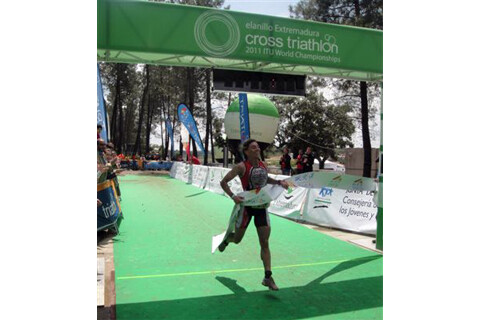 Of course, that Helena Herrero crossed the finish line in the first place, some could qualify her as a surprise since there were great specialists who could have won her and even the champion of Spain last year and winner of all the cros duathlon events in which Rosa competes. Bravo was at the exit.
Aware of this and after not being satisfied the day before with her performance in the cros triathlon world championship, Helena faced this championship with the only idea of ​​sweeping the modality.
And that's exactly what she did from the first minute, she came out ready to break the race and she soon succeeded. She never looked back to see where her rivals were coming from and she was aware that she had to increase the differences with respect to her main rival. In the first transition, Helena had been on Rosa Bravo for more than a minute and she was sure that if she didn't manage to catch her in the first lap she was going to have a difficult time. And that happened, Rosa did not catch Helena and she already ran the last segment controlling the times and managing to cross the finish line just over three minutes behind the runner-up.
Behind Rosa Bravo came the Mexican Adriana Fabiola crown who got the bronze medal in the Ibero-American Championship, leaving the 4th place in the test and 3rd for the Spanish Championship to Maria Pujol.
The classifications in this link