Honda Civic, main sponsor of the VIII Duathlon of Seville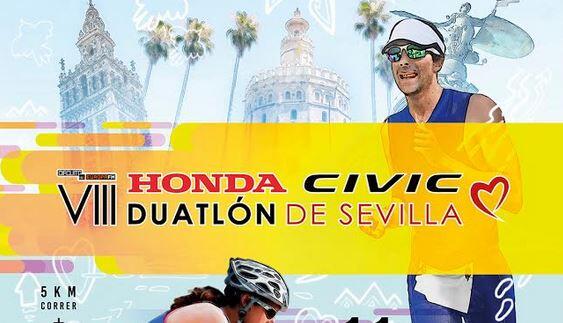 {wbamp-meta name="image" url="images/stories/noticias_08/poster-duatlo-sevilla-honda-civic-small.JPG" width="300″ height="150″}
The test will feature the presence of the new Honda Civic in the VIII Duathlon of Seville, where you can try in the same place of triathlon
Next 11 Sunday in February from the 10h we will celebrate the VIII edition of the Honda Civic Duathlon of Seville, also a very important date for our new main sponsor Honda Civic, thanks to the support of the official Honda dealers in Seville Carinsa and Terry Motor who wanted to join the great popularity of our event.
It will be a very special day for all, because in addition, Motor Terry and Carinsa will bring out in our test their Honda Civic so that both public and participants can test it in situ at the end of our test.
Approaching us now complete the entire registration quota offered by the organization, only two weeks ago the total closing of the quota for male federated. To date, the 15% of places that remain are for non-male federated, women, relays or couples, so you are still in time to enjoy this test par excellence of the Sevillian calendar if you are part of these categories.
A competition that you can not pass up due to its route, weather and distance. Under the sprint distance, you will run a first segment of 5km one lane through the green lung of the Parque del Alamillo, then ride the bike to pedal 20km under a very safe cycling circuit on the Isla de la Cartuja, and ending with 2,5km of race to walk again through the Parque del Alamillo.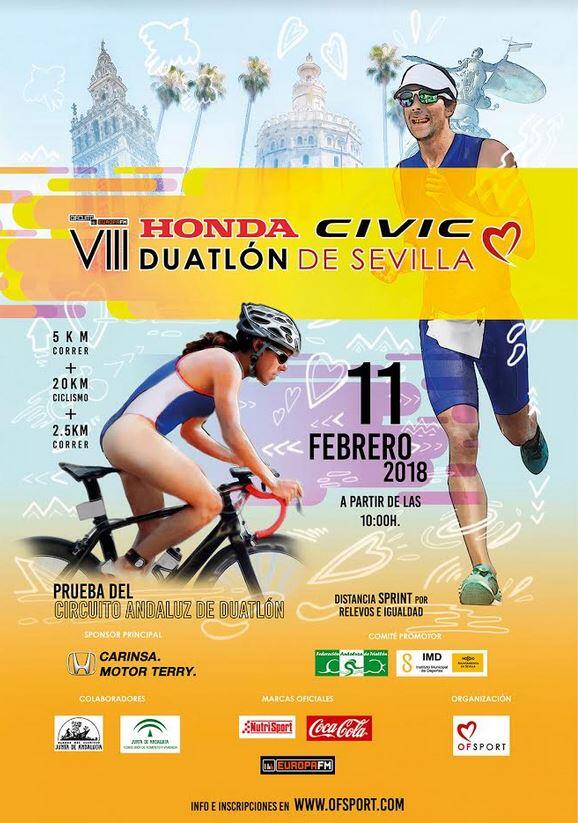 We hope to see you next 11 of February in the Parque del Alamillo, since the duathlon party has already arrived, being the prelude to the Seville Triathlon of the next 29 in April.
Information and registration: https://goo.gl/N9W6Mr
The VIII Honda Civic Duathlon of Seville is organized by OF SPORT, in coordination with the Municipal Sports Institute of the Seville City Council and the Andalusian Triathlon Federation. Sponsored by Honda Civic, official dealers in Seville Honda Carinsa and Motor Terry. With the great support of Europa FM, Airesur Shopping Center, Nutrisport, Expobikes, Parque del Alamillo and Coca Cola.