Schedule for sports in Phase 1
Each Autonomous Community will have the possibility to adapt the schedules for sports and walks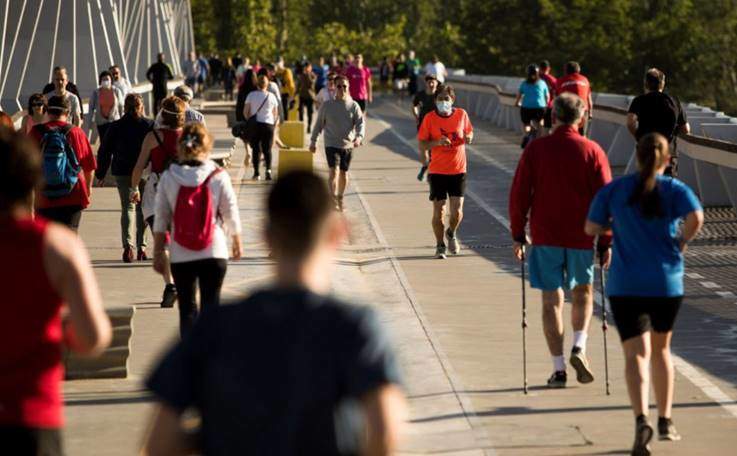 From this Monday, May 11, 51% of all Spain will go to the Phase 1 of the climbing.
It should be borne in mind that in many Autonomous Communities the phase will be passed entirely, several others will do so by area, making it more difficult to know which municipalities may have the measures that correspond to this phase.
It is each Community that has defined the sanitary zones, some are complete provinces and others such as Castilla y León have been defined by health zones
Do you want to know if your municipality is in Phase 1? Check it out on this Interactive map
As for sports, we recommend reading our guide What sport can be done in Phase 1 of the unconfinement?
At what times can you play sports in Phase 1?
As of May 11, one of the measures that have been approved is to delegate to each Autonomous Community the possibility of adapting the schedules for sports and walks to avoid coinciding with the times when the highest temperatures are recorded.
"ANDIt is recommended that they go out at a time when the temperatures are not so high«, Minister Illa has pointed out. «SIt is a measure clearly aimed at protecting the health of minors and that we are going to take together with the autonomous communities«
By this measure, in each Community, establish different schedules, which will be made public once Phase 1 is passed
Even in areas that enter Phase 1 of the de-escalation on Monday, experts have rerecommended that the stripes be kept for sports and take walks with safety guarantees
Walking and sports activities are regulated in OM 380 and it remains in force. You cannot go for a walk or sport in another location.
2 hours may be advanced or delayed
As published in the BOE, the established time bands may be advanced or delayed by a margin of two hours, as long as their total duration is not increased.
Keep in mind that If there is no specific announcement, current schedules will be maintained. They are the following
Walks and sports practice
Tomorrow: from 06:00 to 10:00.
Afternoon: from 20:00 p.m. to 23:00 p.m.
The municipality of residence as the only area for sports practice.
All sports activity must be individual
For people over 70 years old or dependents with their companions:
Tomorrow: from 10:00 to 12:00.
Afternoon: from 19:00 p.m. to 20:00 p.m.
Finally, children under 14 years old can go out accompanied with an adult from 12:00 noon to 19:00 p.m.
In the case of federated under 14 years, will have the same time ranges as federated athletes