I Triathlon Cross ProAction BH in Lanzarote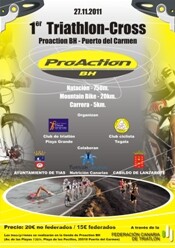 This is one of the last tests on the Canarian calendar for this 2011 season. And it is a cross triathlon in distances of 750 m of swimming, 20 km of mountain biking and 5 km of running.
The test will be held on the beach of Los Pocillos in the town of Puerto del Carmen (Lanzarote) next November 27th from the 10: 00 hours organized by CC Tegala and Playa Grande.
You will swim at Los Pocillos Beach in Puerto del Carmen, from where you will continue along Avenida de las Playas to an exit to the MTB circuit in the area between Puerto del Carmen and Tias, passing through Rancho Texas, Campo de Golf and Karting Club to return to the square and end the race on foot in a circuit that will be given two laps along the avenue of the beaches.
The numbers will be withdrawn on Saturday, November 26 at the Proaction BH store, in front of the pit area between 15:00 p.m. and 19:00 p.m., where the technical talk will follow. The trophies will be delivered at 13:00 p.m. in the same box area.