ICan Marbella, triathletes without barriers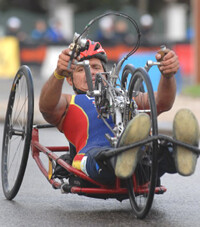 Rafael López is a triathlete with a disability who will take part in the Ican Marbella 2011 on April 3. This athlete has specialized in long-distance events and shows every day that obstacles do not exist for him.
It has an enviable record, since since 2008 it has not stopped obtaining national and international triumphs. In 2008 he was the European triathlon champion and world runner-up in duathlon. In 2009 he took part in the Ironman finister in Brazil, was bronze in the European Triathlon Championship in Holland, bronze in the London World Cup and fourth in the Triathlon World Championship in Gold Coast.
Last year his record was increased with gold in the European duathlon, a fourth place in the European triathlon, bronze in the Triathlon World Cup in London, silver in the Triathlon World Cup in Madrid, and silver in the Duathlon World Championships in Edinburgh.
And is that, for this Andalusian, triathlon is "the most complete sport, since each competition you take it as a great personal challenge, which makes you feel special." In addition, he assures that his disability is an incentive rather than an obstacle to practice this sport. "I want to feel alive and see that I can do everything while enjoying sport."
Rafael has the honor of being the first Spaniard in a wheelchair to finish an Ironman (Florianópolis, Brazil) and he is already preparing for the Marbella appointment "with a lot of training, good nutrition and the desire to improve myself."
As a good triathlete, he has his preferences in each of the tests in which he takes part. "Where I enjoy the most is the cycling sector and where it is most difficult for me is with swimming, due to the type of injury I have, especially if the water is very cold and shaky."